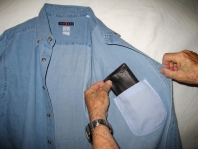 Headline: Security Pocket Solves Hip-Pocket Syndrome or Wallet-Neuropathy and keeps your wallet or
passport safe in the process.
Story: It's a condition that is so common that it even has been given its own name – hip-pocket
syndrome or wallet-neuropathy. Becoming common among men who sit down with their wallets in their
back trouser pockets for prolonged periods (for example while driving), this condition can cause
numbness, tingling and even debilitating back pain due to the pressures exerted on the sciatic
nerves by the lowly back-pocket wallet.
The Security Pocket Shirt line was created to provide some relief to the backs and posteriors
of drivers, travelers and office workers everywhere. Available in many sizes, left/right-hand
versions, and three attractive denim colors, each security Pocket Shirt has a sturdy Security
Pocket discreetly sewn inside, making wallet storage not only ergonomic, but also more secure from
theft. If you want to convert your favorite shirt to one that is ergonomically-correct, you can
even send it to the folks at Security Pocket Shirts for custom-conversion. Shirts start at
$29.95+postage and handling which is a small price to pay when compared to possible hip surgery
later on in life.
Website: www.SecurityPocket.com
Telephone: 1-877-866-3344
Email: info@securitypocket.com
Mailing Address: 1882 West Lantana - Chandler, AZ - 85248