Founded by Dr. Rollan Roberts, Courageous! is a 40-acre equestrian experience nestled in Saint Augustine, Florida that provides an elegant, rustic setting for leaders, entrepreneurs, and executives to address stress, depression, and anxiety, while having access to wise counsel.
Known as "The Camp David for Entrepreneurs," the ranch is fenced, gated and has a winding, fully-paved driveway lined with fenced paddocks, stunning lakes, multiple cabins, and guest lodging quarters. The property also contains an event barn and 19-stall stable with a private room and full bath. Guests enjoy amenities, such as the pool, hot tub, fire pits, lakes, trails, and relationships.
Courageous! sponsors Kingdompreneur Radio, the national, 1-hour, business call-in show, CEO Huddles (over 9,000 entrepreneurs that meet regularly nationwide), and the quarterly CEO Cruise.
https://CourageousExperience.com
Status

Private Company
Company History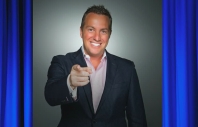 Known as the Institutional Systems Thinking CEO, recognized as "Top 100 Most Influential Floridians," and nominated to the Civilian Task Force for Central Command and the Department of Defense , Dr. Roberts is the Founder/CEO of Roberts & Lowe (with Peter Lowe, founder of the Get Motivated Success Seminars) and is an internationally-renowned, best-selling author, CEO and TV personality. He has led several global, high growth public and privately-held companies (including serving as CEO of the Hoverboard company – the single hottest global consumer product of 2015) and has a record of creating viral global brands and the fastest growing companies in America.

Dr. Roberts has been a featured Keynote Speaker at Harvard University, an advisor to the Top 20 Startup companies in the world (in Menorca, Spain), an economic, trade, crisis, and branding strategist to world governments, a Commencement Address speaker, Adjunct Professor in International Business, Entrepreneurship, and Marketing/Branding for Belhaven University, and hosts Entrepreneur Workshops for universities, schools, and economically-challenged communities.

In addition to being a private pilot, he hosts Kingdompreneur Radio, a weekly, 1-hour, call-in business radio show with hundreds of thousands of listeners on Salem Media Group's FM and AM stations - the largest Christian radio conglomerate in the world, holds a Doctorate degree in Global Business and Entrepreneurship, author of 4 best-selling international books on business and entrepreneurship, was a state Senate candidate in 2012, provides counsel to high profile individuals and corporations, and continues to educate and inspire leaders and entrepreneurs through CEO Huddles and hosting the semi-annual CEO Cruise.