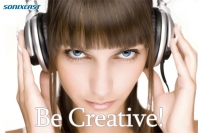 SoniXCast™ is a privately held company based in New York, New York USA (corporate branch in Toronto, Canada) which provides multimedia content delivery and licensing services to independant, amatuer and commercial media broadcast stations.
The SoniXCast™ Brand was founded by CEO Brian Walton when long time partner Sony contracted the company to build a high speed multimedia content delivery network for their interactive production system (Game, Cinema and Music Production). The technologies developed during the project resulted in 2 awarded and 2 pending patents which subsequently helped to forge similar commercial partnerships with Adobe, Google, Microsoft, Roku, Sony and Samsung.
In 2013 SoniXCast released Software as a Service (SaaS) and Aggregated Data Services (Data Warehousing) to their commercial partners which has since been re-branded and distributed on over 24 million mobile and smart devices.
July 2014, in partnership with YouTube, SoniXCast™ released the beta version of their music aggregation service JukeBox (jukebox.sonixcast.com) as a proof of concept project. Developed from the ground up for smart devices, JukeBox runs on any hardware that supports a web browser and audio output. JukeBox is intended to provide a cost effective alternative for commercial establishments to offer customized music playback services. In August 2014 Sony and Samsung announced their support for the project.
In August 2014 SoniXCast™ released SoniX-FM (sonixfm.com) an aggregated streaming content service for the web, mobile, set-top and smart devices. SoniX-FM integrates content from over 40 providers encompassing more than 30000 independent, amatuer and commercial radio stations. Each station is routed through SoniXCast's patented multimedia content delivery network guaranteeing low latency high quality playback. The software sports a Pandora like random search function, lightning fast browse/search functions and detailed station information for listeners. Station operators have the ability to popularize their broadcasts through diverse advertising networks, directory services and social media.
ShoutBox/BoomBox are streaming server control panel projects currently under development for SoniXCast™ stream hosting customers. The release of the ShoutBox project has been delayed due to complications concerning streaming software provider Radionomy. The release of BoomBox will coincide with the release of SoniXCast's proprietary streaming server solution slated for October 2014.
In order to continue to provide high quality hosting services to legacy customers, in June 2014, Domain Registration, SSL Certificate, Web Hosting, Dedicated Server and VPS services were re-established in partnership with ResellerClub as www.sonixcast.net.