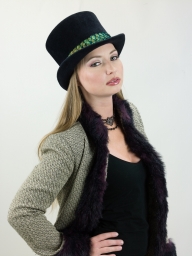 Albrizio Millinery, Inc. has Manufactured wholesale headwear and contact work for the industry for over fifty years, successfully fulfilling all of our clients needs time and time again. We cover all aspects of headwear from custom design to one of kind. We manufacture for overall production-most importantly in New York City, USA. Our company abides by all sweat shop and labor laws of the industry.

Our styles include fedoras, flower petals and hand laid one of kind feather creations as well as sewed and blocked straws. We have rose to the occasion to have worked in many different mediums of headwear. We can cutomize any hats in our brochure to fit any color or style

We look forward to doing business with you and providing you with headwear that is superior in quality and craftsmanship.
Status

Private Company

Founded

1958
Company History

As of Fall 2007 we not only carry the Albrizio label for church and dress hats that has been known for hand laid feathers and petals.

We our happy to introduce a new younger line called, David Steele by Albrizio.
Please see us at www.albriziomillinery.com and click church or dress for Albrizio and for David Steele please click on David Steele.

There will be much much more to come in the near future.