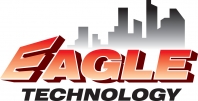 Eagle Technology, Inc. is a software and services company focused on developing comprehensive Facility Management Software, Enterprise Asset Management (EAM ) and Computerized Maintenance Management Systems (CMMS ) to meet and exceed the needs of its customers.

Eagle has assisted thousands of customer organizations improve maintenance operations, implement LEED, Green, and Intelligent Building initiatives, increasing equipment uptime while reducing maintenance costs.

To promote, manage and service its customers worldwide, Eagle has
developed partnerships with companies such as Microsoft, Trane, Johnson Controls, Honeywell, and Tridium as well as other building automation vendors. Eagle's software is available in English, Spanish, German, Portuguese, Turkish, Arabic, Chinese, Russian, and Hungarian languages.

Eagle has an installed base of over 3000 users at organizations worldwide. Customers include landmark facilities such as Lambeau Field, Burj Dubai, Bermuda Airport, University of Wisconsin, Morrow County Hospital, the City of Milwaukee, and the U.S. Department of Agriculture. Fortune 500 companies such as Cadbury, Con Agra Foods, Jabil Circuit, Boeing, Textron, J.T. Walker, Pentair, Schering-Plough Pharmaceuticals, and John Deere rely on Eagle's products to manage their maintenance operations.
Status

Private Company

Founded

1987

# Employees

20