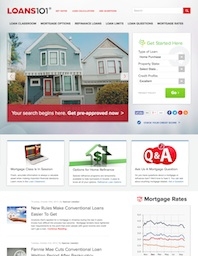 At Loans101, our goal is to educate consumers and give the power to understand their mortgage options. Today's lending climate is fast-paced and changes happen every day. Armed with knowledge, smart consumers have the ability to save money, reduce time and avoid headache when making one of life's biggest financial decisions.

The ever-growing "Loan Classroom" serves virtual encyclopedia of mortgage knowledge, providing potential applicants with inside access to lender and mortgage program information. General topics include how loans work, housing market trends, new mortgage rules and regulations, home buying tips and refinance help. Detailed information for home purchase loans, refinance, conventional loans, FHA loans, VA loans, USDA loans and home equity loans are all easily accessed and compared.

By offering direct access to the latest mortgage news, relevant loan requirements and low mortgage rates, loan applicants have the tools needed to assume a confident, educated role in the application process from the very beginning.
Status

Private Company
Company History
Loans101 was founded in 2008 as a resource for home buyers, home owners, loan officers and real estate professionals alike to get accurate mortgage information. Evolving through the years, Loans101 has emerged a leading resources for home loan knowledge, fresh mortgage news, advanced mortgage calculators and instant access to mortgage rates for home loans and refinance.