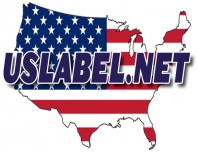 We are one of the largest blank label manufacturers of blank die cut labels in the United States. Our Label sheets are standard white matte Inkjet or Laser Label sheets with permanent adhesive made from American Made Label paper and synthetic stocks that work with Ink Jet, Laser or Digital Printers.
If you need help just call Roy at 888-933-8498 or cell 360-201-3969 to find your Label solution or get a custom quote on printed label products.Don't forget to ask for a promotional discount code.
Ordering Information: There are several ways to order from uslabel.net. On many of our items you can take advantage of our secure online ordering system and order from the convenience of your home or office at any time, night or day. Our website and cart system utilizes the latest encryption technology to guarantee your credit card information is safe via Paypal or Shopify.
Our blank label sheets are engineered with space age ooze free adhesives which will not gum up in today's modern Digital, Laser and Inkjet printing equipment.
You can order any of our label sheets you see here online and we will ship them same day or next business day via UPS or Fedex Ground or Truck Nationwide and Canada on any quantity.
We offer more than 800 sizes of Blank Laser,Digital Copier,Offset & Inkjet die cut label sheets for printing labels for hundreds of every day uses.
All of our label sheets are guaranteed to be fresh made and will run smoothly through most name brand Laser printers, high-speed digital and offset presses,copiers as well as ink jet printers.
The premium bright white paper stock we use for our label sheets provides a superior base for a clearer,sharper image. Our Label sheets are packaged in 1,000 sheet boxes shrink wrapped to keep them fresh.
Sheet sizes that are available are standard 9 1/2" x 4 1/4", 8 1/2" x 11", 8 1/2" x 14",11" x 17",12" x 18" and 13" x 19" sizes that are compatible with printing industry standards; our label sheets are superior to those made by our competitors that are often foreign made.
Where their label selection ends is where our label selections takes off.Visit us at www.uslabel.net