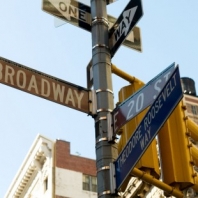 All Tickets, Inc., which has been serving groups who want to enjoy New York City's theatre, culture, history, sites, and experiences, has been in business for 35 years. We have always focused on offering the best personalized service and on helping to make the New York group experience affordable.
Located in Fort Lee, New Jersey, in 2013 we opened a second office at 1776 Broadway in New York City, providing our expanded, service-oriented staff instant access to those various organizations and businesses with whom we work and those groups we serve. In recent years, we have created interesting and exciting experiences for groups of all ages and of varying levels of interest in the theatre to access educational opportunities.
These include educational encounters with Stage Door Workshops, a preeminent theatre educator in NYC; access to customized talkbacks; and free educational tools and materials available at BroadwayEducators.com. We believe that education and theatre working together can be an amazing, powerful force, and we're committed to making the Broadway and New York theatre experience accessible to schools, educators, and students.
For more information on All Tickets, Inc. and our services, please contact us at 1-800-922-0716.