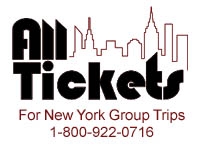 Fort Lee, NJ, June 04, 2015 --(
PR.com
)-- Today,
All Tickets, Inc
. announced the launch of its unique free ticket promotion called The Best Broadway Group Comp Deal. The program, which runs through August 31, 2015, is exclusive to All Tickets, Inc.
Although Broadway show producers will at times offer complimentary tickets to groups purchasing their seats through the box office, it's rare for a group ticket agency to do so. Group ticket agents depend on their commissions to sustain their enterprise and giving away seats to those same people who are purchasing them reduces profits.
In addressing questions as to why he launched the new program, All Tickets, Inc. principal Kevin Friel responded, "We started The Best Broadway Group Comp Deal for numerous reasons. First, to show our appreciation to our customers for their patronage. We also wanted to have existing and new groups come into NYC able go to Broadway shows more frequently by helping them make it more affordable." Friel explained, "Many groups frequently have very tight budgets. We felt this would encourage them and perhaps make the difference between certain groups affording to see a Broadway show or not." He then added, "Finally, the program distinguishes All Tickets, Inc. from any and all licensed group ticket agents in the greater New York City area. What we are doing is simply not done."
According to the Broadway Theatre League, whose membership includes theatre owners and operators, producers, and general managers in North American, the average cost of a Broadway ticket is now more than $103.00. Group tickets can greatly undercut that average figure by 40 to 60-percent. Thus, group sales are a great way for people to save money, while seeing some of the finest professional theatre anywhere in the world. The All Tickets, Inc. program allows for even greater savings.
The Best Broadway Group Comp Deal provides customers two different ways to qualify for comps. With the first, any group purchasing their Broadway show tickets from All Tickets, Inc. receives one (1) free ticket for every 30 paid. The second offer is even more generous. If a group also buys another service or product from All Tickets, Inc., such as restaurant meals, hotel rooms, a visit to an attraction, Step On Tour Guide, etc., then they qualify to receive one (1) free ticket for every 25 paid.
"Along with the comp tickets from All Tickets," Friel notes, "we also honor any producer comps. Thus, if a show is providing free tickets, our customers will also get those, and, of course, the ones we are offering."
Other aspects that make this free ticket deal different from any other is that it includes all Broadway shows and tickets may be purchased for any date and any curtain time. That means groups may book anything from the long-running The Phantom of the Opera to the newest big hit on Broadway, An American in Paris, to the upcoming production of the new musical Hamilton or the revival of The Color Purple, which is slated to open in December 2015. Groups must make their reservations with All Tickets Inc. by August 31, 2015 to qualify for either offer.
For more information on All Tickets, Inc. and The Best Broadway Group Comp Deal you may contact them by calling 1-800-922-0716. All Tickets, Inc. has offices at 1776 Broadway, NY, NY 10019 and at 2460 Lemoine Ave, Suite #205, Fort Lee, NJ 07024. They are a fully licensed and insured group ticket agency offering The Total New York Experience.