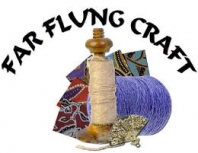 Far Flung Craft provides all of the Googaws, Frou-Frou and Fibers From Afar you need to finish your project. Perfect for scrapbooking, our charms, fibers and fabric embellishment kits are the final poducts you need to complete any scrapbook page or paper craft project.

Far Flung Craft was founded by Kristy Harris, an American living and working in Asia and we are dedicated to providing high quality Asian inspired craft products to scrapbookers and paper crafters worldwide.

Our Headquarters are in Singapore, a small island nation, not much more than a large city off the coast of Malaysia. Singapore itself is a kaleidoscope of cultures blending Chinese, Malay, Indian and Western Cultures to create one of the most vibrant cities in the world. We find our inspiration for our products come from all over over Asia.

Living in South East Asia, we see both the best part of the world in terms of natural beauty and culture. We also see abject poverty and what it does to culture and our environment. As we grow, we hope to do our part to make these conditions better. We intend to have much of our production and packing of our final products done by small families in the Philippines. The Philippine economy is largely supported by export of its women for domestic labor positions around the world. We hope to put money back into the Philippine economy by offering small families work, they can do at home, in order to support their families. We will keep you informed of our plans as they progress. As a small independent company, we understand the bootstrap method of business and we strive to work with people in our local communities and hope to make lives a little better by providing jobs for those who are truly in need. As we grow we will keep you informed of our plans to work with other communities and cultures.

Status

Private Company