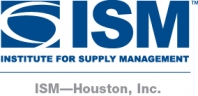 Our Vision
To be the premier resource for Houston area supply chain professionals.

Our Mission
ISM-Houston's aim is to support and drive the success of supply management professionals through highly effective training and development programs, and by providing strong leadership and networking opportunities.

Our Constituents
All supply chain professionals in the Houston area, including students pursuing a supply chain related degree.

www.ism-houston.org/
Status

Private Company

Founded

1921

# Employees

25
Company History

For more than a century, Institute for Supply Management® (ISM) has impacted supply management and the purchasing profession through best in class education, certification, leadership development and research.

Since 2008, ISM has trained over 60,000 professionals in more than 30 countries. Thousands have received ISM's coveted Certified Professional in Supply Management (CPSM) and Certified Professional in Supplier Diversity (CPSD) designations.

ISM research impacts the global economy. The ISM Manufacturing Report On Business® is one of the most reliable economic indicators available. Published monthly since 1931, the report includes the Purchasing Managers Index (PMI), developed in 1982 with the U.S. Department of Commerce, which measures new orders, production, employment and supplier deliveries. The ISM Non-Manufacturing Report On Business®debuted in 1998.

Over 100 years of experience speaks for itself: ISM can help you succeed!