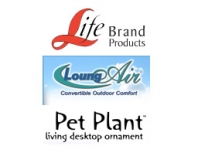 VMK Innovations Inc. (VMK) offers unique quality products and gifts to the wholesale/dealer market. VMK's goal is to provide unique product and gift offerings to its client base that fulfils unmet needs or provides benefits and features not available in the market place. Acting as the product innovator or original sourcing agent, VMK minimizes channel participants to offer its clients better pricing and margins that positively effect client earning potential.
Product Divisions:
Life Brand Products – Exclusive supplier of the Life™ awareness logo into the promotions and ad specialty industry (ASI – 94134). Life™ and DoLife™ are available on quality caps, keep-cool bandanas, and the new "Cancer Awareness on the Edge" line of women's t-shirts. Life Brand Products strives to be the promotions industry's wearable solution provider for all awareness campaign needs. It all begins with the propriety and trademarked Life™ Awareness Ribbon. The Life™ and DoLife™ awareness ribbon logos are intended to bring a new and fresh dimension to a client's awareness campaigns. Created by VMK founder Victor Kasatshko, the Life™ ribbon symbolizes the celebration of life; the life of the person fighting cancer and all the vital organizations who support him or her. It is a positive symbol meant to differentiate clients and their organization from the overused and often ineffective traditional ribbon currently available.
LoungAir - What makes the LoungAir such a versatile comfort item? Simply put, it's the ability to conform to practically any place you care to use it. By adjusting any or all of the three independent air chambers, you can easily alter the LoungAir's inflation level for the right degree of softness or rigidity to suit your space and comfort preferences, accommodate various physical needs and fit into more spaces than a rigid object. Significantly stronger and more puncture-resistant than conventional inflatable items, the LoungAir provides comfortable seating and sleeping options on boats, at the campsite, in the field and on the beach. Soft, yet durable heavy gauge, puncture-resistant vinyl can be cleaned with common household cleaning products, rinsed with a water hose and air-dried. The LoungAir quickly inflates with a rechargeable 120-v/12-v electric pump (included). Bonus valve adaptors make the LoungAir pump handy for other inflation needs. A dual valve system makes inflation, deflation and adjustment quick and simple. Inflate your LoungAir through the top valve (square cap) on each of the three air chambers. Adjust inflation or deflate your LoungAir through the bottom valve. Between uses, the LoungAir collapses into a lightweight travel bag (included) and easily fits into boat hatches, backpacks, suitcases, closets or most anywhere you'd store your gear.
Ideal for all outdoor recreation, the LoungAir has received the Orthopedic Research Institute Seal of Approval.
Pet Plant - The PetPlant™ is a living plant which requires no watering or maintenance due to our patent pending sealed enclosure and proprietary gel. The only light it needs is produced by indoor lighting fixtures; no sunshine needed. It is allergy free, bacteria free and self contained. The attractive colored specially formulated gel contains all the nutrients the PetPlant™ needs to grow. Its charming character makes the PetPlant™ a special gift. The PetPlant™ is ideal for the person who wants to add a bit of nature to their lives in a care-free manner; no maintenance or green thumb required. Florists, gift shops, and hospital gift shops looking for items with an extended shelf life will love the PetPlant™. The PetPlant™ can live for up to 2 years in its container and is transplantable once it outgrows its sterile home.