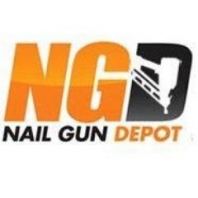 Nail Gun Depot offers quality tools and fasteners at discounted prices - specializing in the supply of pneumatic nailers, staplers and fasteners to the trades and industry. Featured products from leading manufacturers include Senco, Paslode, Duo-Fast, Hitachi, Stanley Bostitch, BeA, Porta-Nails, Grex and many others. Specific product offerings include framing nailers, brad nailers, finish nailers, roofing nailers, flooring tools, fine wire upholstery staplers, pin nailers, construction staplers, packaging staplers, bedding staplers and much more.
Status

Private Company

Founded

2000
Company History
Nail Gun Depot was launched in 2000, in response to a growing demand for e-commerce within the construction and manufacturing trades. To this day, our purpose stands to fulfill a growing demand for world-class fastening products and services, on a global scale. Located in Cincinnati, Nail Gun Depot works with distribution centers strategically located across the United States, to ensure top notch customer service and satisfaction. With a dedication to customer service, genuine passion for the business, and partnerships with world class manufacturers, Nail Gun Depot has continued to prove itself as an industry leader. Our highly skilled and experienced staff strive to offer the most efficient and competitive fastening solutions available.

We offer a large selection of nailers, staplers, fasteners and screw fastening systems - distributing most major brands including Paslode, Senco, Bostitch and Duo-fast. Our product line also includes specialty products from Joseph Kihlberg, BeA, Spotnail and Haubold.