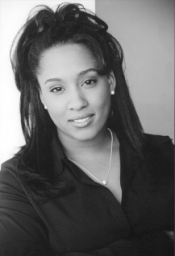 Terry a O'Neal, an author, was born and raised in Stockton California . In 1991, she established her residence in Sacramento where she attended California State University of Sacramento, majoring in Criminal Justice. O'Neal is a wife and mother of four children. She works part-time as a secretary for her husband's communications corporation. She is also the founder of her own publications company that was established in the year 2000 to publish her first book of poetry, Motion Sickness. The following year O'Neal published her second volume of poetry, The Poet Speaks In Black, that has become quite renowned in the world of poetry and has sold over 10,000 copies since it's publication in June 2001. An inspirational work, it was described by Dr. Kevin Starr, the state librarian of California , as "her poems are reflective of African American culture and at the same time underscore our universal humanity."
In 2002, O'Neal released her first children's book, Ev'ry Little Soul, in which she collaborated with Ms. Wendy Robinson—an artists out of Cape Town , South Africa . Together they have crafted a magnificent book that contains an essential message of strength, unity and endurance for readers of all ages. As a writer of diverse talents, O'Neal has recently released her first literary fiction novel, Sweet Lavender- a moving story of a young girl whose wor ld is rocked to the core when her once loving and nurturing childhood is destroyed by betrayal, abandonment, and infidelity.
O'Neal's work is world renowned. In March of 2004, her poetry was translated into the Persian language. An interview and a three page article on the author were published in one of the most popular literary publications in Iran , "Golestaneh Magazine."
In addition to her writing projects, O'Neal is the editor of the youth poetry anthology "Make Some Noise!" which is a compilation of poetry written by youth between the ages of 12 and 18. She has always valued the unique perspective of young people and has worked to encourage their energetic yet sometimes fragile aspirations. Make Some Noise! A Youth Poetry Anthology is the embodiment of O'Neal's commitment to provide the opportunity for youth to have their works published.
O'Neal is the founder of the non-profit organization, Lend Your Hand to EJC. The organization is geared toward helping to provide pencils, crayons, paper and other school supplies to the children in Jamaica . In addition, Lend Your Hand to EJC, has a goal to gain enough resources to provide accommodations for school visit's in Jamaica by book authors and poets with a dedicated desire to help educate and inspire today's youth through literacy.
Her upcoming works include the children's book, "My Jazz Shoes," a celebration of be-bop and jazz; the non-fiction novel, "Making Mo," a moving story of a young boy's remarkable journey from a world of tragedy to triumph; and a volume of poetry based on her own life entitled "In a World of My Own."