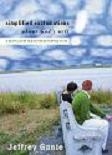 One of five children of retired minister, Rev. Marshall H. and Lois Gante of York, Pa., Jeffrey Gante graduated from Academy High School in Erie, Pa. In 1977. He decided to attend college a few years later and received an A.A. degree from Pinebrook Junior College in 1987. He then went on to Lancaster Bible College where he acquired a B.S. degree in Bible in 1989.
During his time at LBC, he began to solidify his interest for writing on biblical topics. As graduation neared, seniors were asked what they hoped to be doing in five years. Gante remembers stating that his goal was to become a published Christian author by that time.
After graduation from LBC, Gante re-entered the secular work force. Within two years, he married and started a family, but continued to polish his writing skills in his spare time.
In 2005, Gante succeeded in signing a book contract with Tate Publishing, LLC for his first book entitled, "Simplified Exclamations About God's Will". http://www.tatepublishing.com/bookstore/book.php?w=1-9332909-3-5
Jeffrey Gante was remarried to the lovely Jamie (Macher) Gante in 2009 of Westfield, NJ. He splits time betwen York, Pa., where his two children, Kyle and Kayla reside - and New Jersey with his wife, Jamie.
Jeffrey and Jamie Gante are known as "The Masked Truelovers" on their website, long-distance-love(dot)com, and are near completion of a fiction novel, tentatively entitled, "Blood Soaked Kindred" - which they hope to publish, pending acceptance by a literary agent.