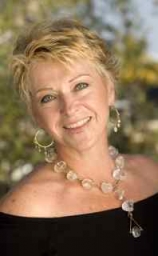 Laura Dion-Jones Casey is a writer and motivational speaker, designer, Elite distance walker, Triathlete, beauty authority, former top Plus-Size clothing designer and model.

As an expert in the field of weight loss the old fashioned way, Laura has recently shed 130 pounds in 2-1/2 years through cutting white starch and sugar carbs from her diet combined with daily walking; she now averages 45-50 miles per week and in five full years has walked 12,500 miles, or halfway around the globe at the Equator.
After struggling with her weight for a lifetime, Laura still considers herself a recovering, chronically obese woman who is now enjoying life as a much healthier, thinner, less encumbered, and more beautiful person. She feels it's her duty to help all those who struggle with their weight the same way she did because of ignorance, because of medical and economic politics, and because they're on the wrong diet, health and fitness plan.

Laura leads by example and helps others live an optimal life by raising their awareness of lifestyle choices and shows them how to finally take control of their weight, their fitness, their appearance, their self-esteem and their life.

Drawing on fifty years of intense, personal research and her own experience gives Laura her varied qualifications and extensive background in the fields of fashion, beauty, fitness, increased self-esteem and improved personal appearance motivation. She is considered an expert in each field that it takes to teach and motivate people not only to lose weight, but to make themselves look and feel great while the numbers on their bathroom scale continually go down.

Such a diverse background has enabled Laura to conceive and write a How-To/How I Did It book, Commit To Get Fit: The Secret to True and Everlasting Weight Loss, a 5-week health and fitness quick start guide to help people get in the best shape of their life and make this the year they stop struggling and finally lose weight once and for all. Commit To Get Fit is undoubtedly a practical, realistic, no nonsense guide for creating that forever-healthy lifestyle change we all seek and is now on sale through her website (www.poundbypoundonline.com) and Amazon.

An effective motivational speaker and writer, Laura is also a highly sought after guest appearing across the country on many TV and radio programs. She additionally gives seminars and writes motivational, lifestyle and general interest commentary articles for newspapers, magazines and an on line group she supports through her informative motivational website. Laura is a proven master at tailoring her approach on all her topics according to the needs of the audience.

Laura enjoys a broad demographic and younger women (and guys) look up to her because she's instantly like their cooler, chicer, older sister. Older gals (and guys) love her because they know she's not a youngster and they could, with the right coaching, realistically look as good as Laura does with a little money and some effort.

As an expert in the fashion design, hair and beauty industries, Laura has over 35 years experience with hundreds of personal appearance makeover success stories for women as well as men to her credit which includes private clients as well as the media.

Laura walks the walk and walks the talk - an "Everywoman" who's everyone's motivational best friend – a One-Woman Straight Eye for the Every-Gal or Every-Guy who can help make you over into the new person your old person only dreams of being proud of.

She gives people courage and hope when and where there is none by proving that positive change is possible and that the rewards are immediate by letting them know that they have choices: other options in diet, health and fitness. Then she makes them want to Commit To Get Fit by showing them how.

Laura makes herself very clearly understood by everyone and always leaves everybody she meets feeling better about themselves than they did when they first met. She gives everyone the confidence that they, too, can do what she has done and she's here to help. To see her is to realize the results she has achieved on her own, then read her book and articles, and judge for your self. Just ask anyone who knows her. (Medical resources and personal references are on page 48 of her book, Commit To Get Fit.)

Laura's expertise at writing, communicating and being a successful role model are tremendous assets for her. Her stance as a walking, healthier life-style coach, and makeover expert enable her to get people moving in the right direction for healthier, happier lives. She is always everyone's biggest cheerleader.
Laura is also co-owner and principal designer of a upscale canine clothing and accessory line called Snob Hounds Essentials – true environmental protection and performance wear for canines. Think Nike meets Donna Karan but for canines and you'll understand the core of Snob Hounds Essentials. (www.snobhounds.com) Daily walking with her two Italian Greyhound rescues was a crucial component to her incredible weight loss success story and Snob Hounds was born out of necessity to keep her dogs warm, dry, cool and comfy no matter what the climatic conditions.

From 1980-1988 Laura was one of the country's first and top Plus Size models appearing in numerous national clothing, corporate and product ads in print as well as on network and cable TV.

From 1986-1998 Laura was the principal owner and designer of Dion-Jones, Ltd., one of the country's first and top upscale Plus-Size clothing design companies. Her expertise in design, and both domestic and overseas manufacturing are unparalleled.

Besides being a container gardening Maven with over 20 years experience, Laura is also a master orchid gardener at she and her husband's home in Ft. Myers Beach, Florida. In her non-spare time, she is working on an upcoming container gardening book called Confessions of a Container Garden Junkie. (Laura and her husband are former winners of the Chicago Tribune Garden contest, Gardens Off the Ground category.)

Laura also has a screenplay and creative non-fiction novel in development.

In addition to the many awards and accolades Laura has received, in May of 2007, Laura was one of the winners of the People Magazine/Dove Pro-Age "Most Beautiful Women Over 50" contest and appeared in Dove's ad in People's "World's Most Beautiful" issue on May 7, 2007.

On January 15, 2007, Laura was a guest on Bob Greene's XM radio show (Oprah's trainer).

Laura sincerely hopes that whomever reads her story will be encouraged to walk with their dog daily, eat healthier and take action to live a longer, happier, more fit life.

Please go to her motivational website and blog and use her advice as a motivational tool to get yourself moving on a weight loss success story of your own.
Status

Private Company