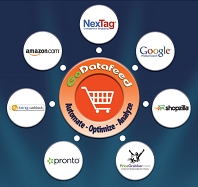 www.GoDataFeed.com is a Web-based data feed management tool that helps online retailers drive more quality traffic to their site by streamlining and optimizing and tracking their product feeds to a choice of 60+ comparison shopping sites including Google Product Search, Shopzilla, Pricegrabber, NexTag and more.

GoDataFeed empowers merchants to manage and optimize their own data feeds with user-friendly software that includes everything they need to optimize and submit their own shopping feeds. Its built-in datafeed templates and feed validation tools let merchants quickly and accurately set up thier own feeds one-time. GoDataFeed's analytics module also lets retailers track engine and product-level performance so they can maximize performance on the shopping engines and remove under-performing products from their campaigns.

GoDataFeed's Risk-Free, 30-day Trial allows merchants to try the software before they subscribe, and receive their first two shopping feed setups, a $198 value, at no cost. To learn more, visit www.GoDataFeed.com or call 954.745.7998.
Status

Private Company

Founded

2000

# Employees

10
Company History
GoDataFeed- Empowering Retailers for Success
GoDataFeed is reshaping the delivery of product feeds to the major comparison shopping channels with an innovative solution that properly and effectively automates, optimizes and analyzes the data feed management process. GoDataFeed empowers online retailers and search engine marketers by providing an affordable, time-saving solution to increase traffic and visibility on more than 50 comparison shopping sites and affiliate networks.

Serving online retailers, hosting and search engine marketing firms, GoDataFeed strives to meet the individual needs of each merchant and exceed customer expectations. GoDataFeed's staff provides one-on-one customer service to meet the unique demands of each company and works with each client- from setting up customized feeds to implementing tracking to ensure feeds are delivered properly and are driving motivated buyers to theirsite. GoDataFeed also caters to companies who wish to delegate the entire data feed setup process.

GoDataFeed's software engineers and marketing specialists have developed ecommerce solutions for online businesses since 2000. Responding to the popularity of comparison shopping channels, GoDataFeed's team combined its collective knowledge of best ecommerce and shopping channel marketing practices to create a single, user-friendly application to manage the product feed process. The GoDataFeed team has been quoted by retail industry sites including Practical eCommerce, Ecommerce-Guide.com, Small Business Informer and ECommerceOptimization.com.