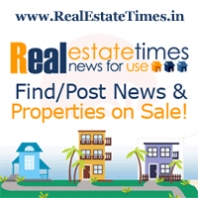 Real Estate Times is a community-driven eMagazine and Social Media Portal and is divided into different Sections - all frequently updated. Covers Residential and Commercial Real Estate News, including Buyer Advice, Seller Advice, Borrower Advice, New Homes, Home Loans, Interior and Architecture, Agency Trends, Realty Jobs, Events, Polls, Exhibitions, Meetups, Rental Advice, Announcements, Location Reports and Special Columns.
Our mission is to "connect REAL investors, developers, brokers, consultants, investment bankers, fund managers, owners and landlords, lawyers and legal experts, architects, interior designers, vaastu consultants, media, technology firms and policy makers to promote best practices in the real estate marketplace."
The single most issue with brokers, builders, consultants, agents and commercial listing portals is that they have too many promises not kept. For example, a common promise is we will find a "Dream House for you". For example, assume your dream house is a penthouse overlooking Nariman Point in Mumbai that costs under INR 20 Million. But when you visit these links you will find links to poorly executed pages covering tens of thousands of properties (many are junk & unverified) - the haystack in which one is left to find a dream needle. Good luck, guys! What a mess, what is missing?
Truth, honesty and a real media. Most commercial and hyped-up real estate portals or property sites you visit will speak with a different voice, unconvincingly. If we brand ourselves as a "top builder," what is it that we build? What does this term mean to real/potential home owners? What is your site/portal doing to support that claim and extend best housing experiences to the customers? If you are a marketing expert or agency, what does that mean? When you claim to be a marketing expert, how are you extending that claim on your website in a great way so that your positioning statements are well supported? To support all the stakeholders convincingly and rather than pure theorizing, we focused on creating an eMagazine - a strong, open, social and living solution, we call it "Real Estate Times"!
Committed to help users make wise and transparent decisions on planning, designing, building, buying, selling, renting and leasing real estate anywhere. You can contact us for advertising and media services ONLY, clearly mentioning your objective, budget outlays, company name, address, contact person and land phones. Incomplete messages will be ignored or just marked spam.