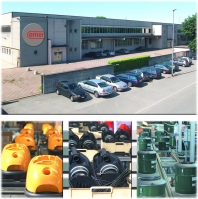 Emer, Inc. was founded in Monza, Italy in 1955, and quickly became a primary producer of high quality floor polishing products. From the early 70's, Emer began to expand its' product line to include a wide range of new floor care products, including: canisters, power nozzles, drum cleaners, E-ZEE cleaners and uprights, eventually advancing Emer to a full line manufacturer in Europe.

The company's pursuit of excellence embraces two main objectives – The ability to provide on-going quality improvement for all of its products and the relentless attention to end-user satisfaction. We are proud of our success in the European household with over 7 million units sold since our inception.

All Emer floor care products are ergonomically friendly and designed for long-term usage, Emer vacuums have durability and high performance levels in all aspects of our cleaners

Gianni Emiletti, founder and President, along with his son Franco Emiletti, Managing Director, believe that Emer's floor care products can be launched successfully and accepted into the American market through their latest innovation and newest series of special products appropriately named the Disegno Italiano. With this Emer U.S.A. has now been formed and products are now available in the US market.

Disegno Italiano is a new, unique line of floor-care products conceived and modelled according to the Italian tradition of innovation, quality, style and design.

The names of each model within the Disegno Italiano line have been selected to pay homage to the great Italian artists and men of science, who, through their own genius and collective contributions were able to elevate and bring the essence of the Italian culture to the world. They were the masters and models of those highest qualities and values that can still be found today and appreciated in the true Italian tradition of craftsmanship and design.

Creativity, competence, experience and a passion for every detail have enabled us to proudly wear the "Made in Italy" stamp of approval. And it's in this way that we anticipate the Leonardo, Botticelli, Michelangelo, Raffaello, Donatello and Giotto models will gain the acceptance and approval of the American consumer. Emer is proud to offer you a wide range of cleaners, each providing a solution to your specific cleaning needs.
Status

Private Company