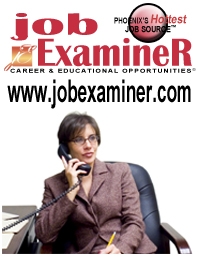 The Job Examiner is a bi-weekly publication and has been a leading career and educational opportunities newspaper for more than thirteen years. It has been designed to help our readers with their search for a new career.
We distribute our newspapers to hundreds of locations across Maricopa County and Now To Case Grand and Maricopa ! This includes 7-11's, Osco Drug, Iga, Fry's Marketplace, Fry's Food & Drug, Albertson's, Ranch Markets, Food 4 Less, Safeway, Bashas, Diamond Shamrock, AM/PM, Texaco, Chevron, Ace Quick Cash, Blockbuster, Big Lots, ASU ASU West, Tech Schools, Community Colleges, Job Fairs, and more!
You may also find the Job Examiner at college campuses such as ASU, ASU West, most of Maricopa Community Colleges as well as most major tech schools. The Job Examiner is also available at various other locations like restaurants, vocational training centers, Luke Air Force Base, unemployment and DES offices and various Job Fairs.
The Job Examiner reaches your audience for two weeks at a time rather than other papers' one week or two days. We can offer you the power of display advertising cost-effectively to a targeted audience. Moreover, our rates include ad design and layout as well as copy changes for multiple runs. We also offer classified advertising as well as insertions directly in our paper. This increases your visibility easily, cost-effectively and directly into the hands of your target audience.
Our website advertising is also very affordable and easy, both for classified and display. Banner advertisements are also available for purchase for our site. Call or email Sales for sizes and pricing.
Let the Job Examiner show you how our distribution will provide an excellent avenue into the hands of thousands of people. We are a professional service that you can count on! We are Online at www.jobexaminer.com