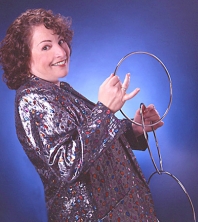 Atlanta-based Corporate and Trade Show Magician, Comedian, and Motivational Speaker Debbie Leifer adds magical impact to sales meetings, attracts attendees to trade show booths, enhances promotional events, and energizes the attendees of executive retreats, award banquets, and conferences.
Debbie's Interactive Comedy Magic & Mindreading Shows, World-Class Interactive Strolling Close-Up Magic, Memorable Customized Promotional Magic, Corporate Magical Motivation and Team Building, and Entertaining Keynote Speaking have been enjoyed by audiences around the world.
Presentations can be customized to promote your company, your sales messages, and/or your event theme. Debbie will make YOU a star by making your next event a memorable success!
Based in Atlanta Georgia, Debbie travels Nationwide and around the world. Call (770) 973-6820 for a free consultation, or email Debbie@DebbieLeifer.com to learn how Debbie will instantly become an enthusiastic member of your success team!
http://www.DebbieLeifer.com