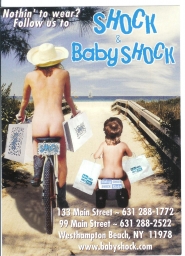 A baby store in Westhampton Beach, Long Island, NY.
All 3 stores were voted BEST OF THE BEST in Dan's Papers. We have everything you need for every generation from Newborn Babies to Hip Grandma's there is always something new, fun and trendy to find at Shock. Then take time to enjoy our homemade old faashioned ice cream parlor right behind Baby Shock located on Main St in WHB.
Baby Shock
Shock
Shock Ice Cream & Teddy Bear Cafe
- All located in Westhampton Beach with the latest looks and trends in the Hamptons.