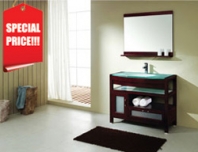 Our duty is to provide an excellent shopping experience for our customers every step of the way. We offer top of the line modern and traditional bathroom vanities, mirrors, and a wide range of stylish faucets at discount rates. Here are some of the main reasons we are confident you will become a lifelong shopper at Ardi Bathrooms.

Our mission is to continue to distinguish ourselves as the premier source for unique high quality products and the very best professional service. In recognizing our clients' satisfaction as the most meaningful measurement of our success and our most powerful resource for continued growth, we commit ourselves to providing total customer satisfaction in all we do.

We have the largest selection of bathroom vanity cabinets, mirrors, and faucet fixtures on the web. Our browser and search feature makes it easy to find exactly what you want among our hundreds of choices with only a few quick clicks. Shopping is simple and hassle-free with Ardi Bathrooms.
Status

Private Company

Founded

2006