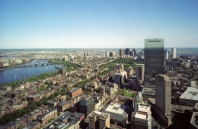 Privately held GetSolar.com was founded in 2007 in Cambridge, MA as a go-to place to discover, debate and deliver solutions for the clean economy. Whether looking for solar panel installers, green-build architects, solar news and commentary, consumers can find it at GetSolar.
The company's founder Matt Jennison had a vision while a grad student at MIT to bring solar mainstream in the United States through fast search, daily news, a deep solar and green-build directory. Partnering with many of the Nation's best solar companies, GetSolar helps the US consumer make informed choices in the expanding clean energy marketplace and connect with top solar companies locally and nationwide..
The GetSolar Team is a vibrant and engaged group of people from some of the nations' top academic institutions, all passionately committed to bringing clean energy to America. They have developed the GetSolar platform using the best in Search Engine Optimization, Internet Marketing, and Original Content. The Company is currently headquartered in San Francisco, CA and covers the entire US market.