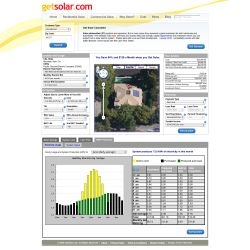 San Francisco, CA, June 09, 2010 --(
PR.com
)-- GetSolar, a leading online resource for homeowners and businesses looking to make the switch to solar and clean energy, today announced the beta launch of its new calculator,
GetSolar Online Quotes
, a new comprehensive and interactive solar financial calculator and quote system.
"We think our new calculator provides a straightforward look at what solar can do for the customer's home or business," Founder and CEO Matt Jennison said. "Our aim here isn't to oversell or undersell solar -- it's to provide information that's as accurate and unbiased as we can."
GetSolar Quotes provides just that: accurate and detailed solar analysis. After users enter their location and select from a number of variables relating to their electricity usage, customer type, and desired savings, the calculator produces immediate numbers detailing items such as payback, energy savings, and loan options (carbon offset will be coming soon). The user can then choose to request quotes, and the system will save their personalized analysis for a quick follow-up phone consultation.
"The output is comprehensive because we wanted to put the consumer in the driver's seat," noted Jennison. "But like with any financial analysis, it may be helpful to have extra guidance. That's where our solar specialists come in. Just pick up the phone, dial us toll free, and we'll walk you through the numbers -- and answer any questions you may have."
Following a one-on-one phone consultation, homeowners can opt to schedule up to three solar project proposals from GetSolar's trusted network of solar installation firms.
"You pick the installer, and proposal, that best fits your needs and budget, simple as that," Jennison said.
Later releases of GetSolar Online Solar Quote will provide answers to solar thermal (hot water) systems and to the carbon offset of solar systems.
About GetSolar
Since 2007, GetSolar has helped tens of thousands of individuals learn about solar energy through its informative writing, dedicated solar news feed and great customer service phone calls. With its full clean energy directory and user-friendly applications, making informed choices in the expanding clean energy marketplace has never been easier.
###