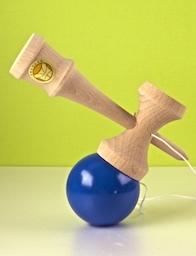 Kendama is an importer and distributor of Japanese ball-and-cup skill toys. We carry all official sports competition brands certified by the Tokyo-based Japanese nonprofit organization the Japan Kendama Association.

These simple wooden skill toys are growing in popularity among high school and college age consumers of both sexes and have proven to be highly addictive.

Our most popular products are the Oozora brand, manufactured by Yamagata Koubou, and the TK16 Master from H Alpha. We also handle generic competition kendamas without the JKA seal of certification.

We can supply independent retailers with quantities as small as two dozen units in the original Japanese packaging. For larger orders we can consult on customized packaging for the domestic market.

We also operate an online kendama shop selling kendamas and associated accessories and novelties.
Status

Private Company