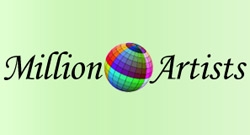 Toronto, Canada, May 07, 2006 --(
PR.com
)-- SickKids Foundation and MSF Canada have recently accepted to be recipients of funds raised by the MillionArtists.com record-breaking attempt to make the world's largest collaborative work of art.
Million Artists is a new project, which aims at raising funds for medical charities, while creating the world's largest piece of collaborative abstract art. Each donor selects a pixel of color to become part of a huge abstract 'painting'. The project hopes to get a million people involved in this huge fundraising initiative. Donors don't even have to be artists to take part, and donations are facilitated by PayPal or credit card.
"Here is a crazy but amazing idea..." said abstract artist Tim Seaward of England. "Produce the largest collaborative piece of abstract art! ... by one million artists!!! This concept is the brainchild of Eugene Pik, who, with the help of Canadian programmer Anthony Barker, created MillionArtists.com. News is spreading and many people are taking an active part as they realize the different creative and artistic opportunities the project offers. It could also be a Turner Prize contender."
This project is not at all exclusive... you don't actually have to be an artist to take part. All you have to do is select a color and apply it to one pixel, which is then randomly added to the picture. At this point the participant may begin to feel an irresistible desire to return frequently to see how their picture is evolving, which is exactly what an artist experiences when producing a work of art.
Upon completion of this fascinating project, an abstract image of one million different colored pixels chosen by one million different types of people from all walks of life and backgrounds will result.
SickKids is a Canadian national treasure, at the international forefront of pediatric health care and research. Since its foundation in 1875, The Hospital for Sick Children (SickKids) has been a place of healing and of hope.
Médecins Sans Frontières (MSF) -- or Doctors Without Borders -- was started by a small group of French doctors determined to find a way to respond rapidly and effectively to public health emergencies, with complete independence from political, economic and religious influences. MSF was awarded the Nobel Peace Prize in 1999. Today, it is the world's leading independent international medical relief organization.
Contact: Eugene Pik
www.MillionArtists.com
###