Boardwalk to Boardroom – Found Hound Becomes Chief Cookie Officer of Dog Treat Company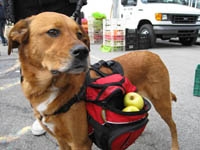 New York, NY, October 08, 2008 --(
PR.com
)-- Discovered running the streets of Atlantic City, 4-month-old Starr hit the doggie jackpot.
Now Chief Cookie Officer at Biscuits by Lambchop in New York City, this girl's story is one of rags to riches.
After local police finally caught up with our girl, she was brought to the Humane Society of Atlantic County where she was literally given a new leash on life. Catching the heart of volunteer trainer Ana Cilursu, Starlet's luck changed, her confidence grew and she was ready for a new home.
Ana had already hand picked Starlet's new home when she contacted friend Annette Frey, owner of Biscuits by Lambchop - a dog treat company in NYC.
Little did Starr know she was going to have a job - taste testing dog biscuits. Woo-hoo! 4 fast laps around the kitchen.
It was only a matter of time before a new treat was in the works. Starr had inspired her very own dog treat, "Starlets."
Starlet is a "paws on" type of girl, spending most Saturdays with Annette at the Greenmarket, where they hand pick apples for her treats. On cool days, she even helps carry apples home in her daypack. Of course, she is always available to taste test every single batch of treats.
Starlet was recently promoted to Chief Cookie Officer, Biscuits by Lambchop.
###
Biscuits by Lambchop™ contact information:
Annette Frey
Phone: 917-647-0093 Fax: 212-202-7939
E-mail: info@biscuitsbylambchop.com
Website: http://www.biscuitsbylambchop.com
Contact
Biscuits by Lambchop
Annette Frey
917-647-0093
www.biscuitsbylambchop.com
fax 212-202-7939

Contact