InvitingHome.com Introduces Decorative Hardware Collection for Home Decor
Homeowners unable to define the term "decorative hardware" are missing out on a wide variety of classy decor elements that can add stylish and affordable nuances to any room.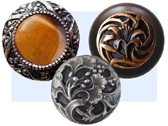 Waltham, MA, November 13, 2008 --(
PR.com
)-- Decorative hardware elements, such as pulls, knobs, and hinge plates are quite often forgotten in the interior decorating world. Attention to even the smallest detail can add character and style to a room, creating a beautiful and unique space in your home. InvitingHome.com is pleased to present its new collection of decorative hardware which is now available to discerning homeowners, everywhere.
Hand-crafted and of flawless quality, InvitingHome.com's
decorative hardware
selection allows homeowners to surround themselves with beautiful accessories which bring beauty and elegance to any home. This collection features a wide range of designs most of which come in knob, hinge and pull forms. For each product homeowners can choose the style, size and finish that will best transform everything from kitchen cabinets to custom-built furniture and breathe new life into any space.
InvitingHome.com's hardware collection can be used as a source of inspiration when planning and designing the decor of a room. Utilizing the numerous designs and styles homeowners can feature pulls and knobs to add flair or even use decorative hardware as a starting-point from which to fully imagine the overall look and feel of an entire space. Mixing and matching from multiple styles can add character to an otherwise dull piece of furniture, create or continue a theme and even tell a story. With a wide variety of styles including Early American, Victorian, Revival, Art Deco, and Modern, living spaces can be easily transformed by armed with a wealth of hardware possibilities.
"We believe everyone has their own creative side and even
home decor
fantasies that they have not yet tapped in to," said Company President, Albert Delaney. "We're here to give you everything you need to unleash that creativity. After you finish your room, you should feel that it reflects your personality and your ideas — and that you got exactly what you need and want. There's no need for you to settle."
Decorative hardware is a great way to add something special and unique to your kitchen cabinets and custom built-in furniture. For more information, please go to www.InvitingHome.com. You may also visit the new Inviting Home showroom at 318 Bear Hill Rd., Ste. 7 in Waltham, Mass.
About InvitingHome.com
InvitingHome.com is committed to providing exquisitely designed, handcrafted home furnishings and architectural products along with unique decorative elements, all manufactured to the highest quality standards. Their extensive selection of architectural accents and home improvement additions allow interior designers, decorators, builders, and homeowners to create the home decor of their dreams.
###
Contact
InvitingHome.com
Albert Delaney
781-444-8001
http://www.invitinghome.com

Contact