MySpace.Com Select Fashion Designer Mal Sirrah to Design Website's Official T-Shirt
Members of MySpace.Com vote for fashion designer, Mal Sirrah (Malcolm Harris) to personally design the Anti-MySpace T-shirt campaign to boost the image and profile of MySpace loyal and faithful members.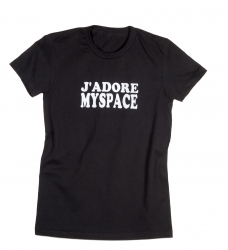 New York, NY, June 06, 2006 --(
PR.com
)-- When the powers that be at MySpace.com needed an image boost after a string of scathing news reports attaching MySpace to lurid sex and drug chat rooms and blogs, they sent out an open call to all of their creative members for suggestions for a media counter attack. After weeks of searching, polling and debating the end result came in the form of 's most common agenda billboard: a T-shirt. The first official MySpace t-shirt (in a series of three limited edition tees) simply reads "J'ADORE MYSPACE"
The lucky person selected to design the official MySpace t-shirt campaign is none other than New York 's controversial and infamous fashion designer Mal Sirrah (Malcolm Harris). Mr. Harris is perhaps best known in the world of fashion and entertainment for his red carpet sensations which have adorned the likes of Madonna, Jennifer Lopez, Reese Witherspoon and red-carpet regular, Lindsay Lohan. However, most of the members of MySpace.com came to know Mr. Harris after his recently publicized t-shirt dedicated to the tirades of supermodel Naomi Campbell made international headlines ("Naomi Slapped Me… and I slapped the Bitch back!!!). Therefore for the over 600,000 voting members of MySpace.com the voting process was merely a formality.
Mr. Harris says that one of the greatest components for him in the designing of this wonderful t-shirt campaign is that a hefty portion of the proceeds go to the charity F.A.N. (Fight Aids Now) a grassroots charity that travels throughout Africa attempting to spread the word about aids prevention and treatment.
One might even say that the MySpace t-shirt truly kills two birds with one stone: It counters the hateful lies being spread about the many members of MySpace.com and it also attempts to prevent the spread of AIDS in Africa
… Now we ask you, how can anyone simply not:
J'ADORE MYSPACE!
T-shirts can be purchased exclusively through www.myspace.com/malsirrah or via email request at myspace@malsirrah.com.
###
Contact
Mal Sirrah, Inc.
Seth Levine
212-368-4240
www.malsirrah.com
For further information please contact Press Office direct

Contact