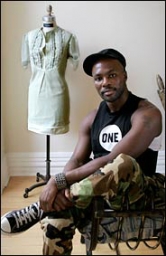 Malcolm Harris is a talented and bright fashion designer who has been designing both ready-to-wear and made-to-order clothing for more than 10 years. Mr. Harris is known for designing elegant, sophisticated and appealing clothing for confident women interested in luxurious and timeless style.

Mr. Harris currently designs a separate label, Katsumi & Malcolm, that is headquartered in Tokyo, Japan. This collaborative effort has been fortunate enough to garner a great deal of media, celebrity and retail attention and has also developed into one of the most treasured labels exporting out of Japan today. It is due to this great success that Mr. Harris has now decided to branch out and develop a solo project which he designs under the label, Mal Sirrah (Sirrah being Mr. Harris's last name spelled in reverse as well as a pseudonym he so jokingly calls his "alter ego").

Mr. Harris is a graduate of the Fashion Institute of Technology as well as possesses a Master's Degree in English Literature from New York University. Mr. Harris embarked on his career by apprenticing at various fashion houses throughout Paris, France including the ateliers of Paco Rabanne, Yves Saint Laurent and Jean Paul Gaultier. He later found himself working as a talented and much sought after fashion stylist, collaborating on various projects with the industry's celebrated photographers, models, hair/make-up artists and magazines.

As Mr. Harris travels the world and meets with various clients, he says that his designs always find themselves catering to the basic needs and calls of a woman's wardrobe: exquisite designs, quality, fit, and fine fabrics. It is to these calls that Mr. Harris feels compelled to answer with beautiful clothes which are flattering, sumptuous and constructed with thorough and labored precision. Mr. Harris is currently distributing his ready-to wear line domestically as well as internationally and plans to develop additional product lines that will compliment his collection.

Mr. Harris is a truly talented and gifted designer ,and it is apparent that he will continue to build a solid customer base of loyal and faithful followers.
Status

Private Company

Founded

2009