Gym Floor Covers Are a Profitable Investment in Gym Floor Protection
With the indoor sports season arriving in much of America, All Court Fabrics wants gymnasium and physical plant managers know, smart investment in durable gym floor cover can save significant dollars and also create branding opportunities with custom full color logos and messaging.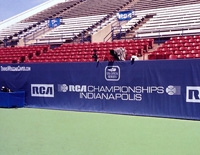 Chicago, IL, November 25, 2008 --(
PR.com
)-- Larry Brown at All Court Fabrics says, "You spent a fortune building or restoring a beautiful hardwood gym floor, and a small investment can help keep it looking beautiful for years."
Brown adds that there are no more lengthy on and off times with gym floor cover movable storage racks. "Even one person can easily cover an entire gym floor in about a half hour."
What should prospective buyers consider before purchasing gym floor covers? Brown says to think about three factors – budget, length of use, and value it provides. Brown says obvious issues like gym floor traffic and specific uses should help get a handle on the value of quality gym floor covers.
"There are different grades for different gym floor uses," Brown says, pointing out a primary cost issue when choosing gym floor protection. For example, All Court Fabrics sells 16, 18, and 27 ounce material varieties to cover all level of gym floor traffic and usage.
"Our heavier grade materials have been known to last up to 20 years," Brown says.
One issue many buyers don't consider when buying gym floor cover, Brown says, is the branding opportunity with custom logos and full color images.
"Think about how many visitors and members will see it," Brown says. "It can support the gym's larger organization or sell the gym itself. And the imprint process ensures the custom colors last as long as the gym floor cover does."
Finally Brown reminds buyers that with the new movable storage racks available, anytime can be a good time for an installation.
"People tend to wait until they invest money in the gym floor itself, but movable storage racks mean you can start saving money on your gym floor the day you start using gym floor protection."
Weighing the benefits of gym floor covers for your gym floor? For more information visit
www.AllCourtFabrics.com
###
Contact
All Court Fabrics
Teri Wysocki
800-401-6533
allcourtfabrics.com

Contact