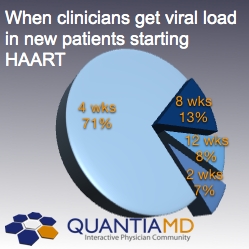 Newton, MA, December 02, 2008 --(
PR.com
)-- A national survey of HIV clinicians revealed important details about treatment patterns for HIV patients. Very little study has been done of the standard practice patterns among HIV specialists since the introduction of the Department of Health and Human Services (DHHS) 2007 federal HIV guidelines.
"The results of this study are re-assuring that [HIV specialists] are doing much the same, even though the 'evidence' is not there," says the survey's author, John G. Bartlett, MD, Professor of Medicine at Johns Hopkins School of Medicine and Chair of the QuantiaMD Infectious Disease and HIV Community. "This is interesting because [these findings] are not documented anywhere else that I know of."
The QuantiaMD survey was designed to help understand how HIV clinicians direct the care of their patients, as well as their experience with various HIV drugs and treatment regimens.
More specifically, the survey found that:
· 71% of the surveyed HIV specialists would expect the next viral load in a new patient just starting highly active anti-retroviral therapy (HAART) at four weeks after treatment.
· 62% said they would initiate therapy in a patient who desires HAART with a CD4 count of 400/mm3 if the patient's baseline viral load reached 200,000.
· 89% of respondents said they would educate patients to stop therapy and contact them if the patient experienced hypersensitivity after starting Abacavir and Lamivudine (after a negative test for HLA B*5701).
· 61% said Atazanavir is the protease inhibitor (PI) that had the best GI tolerance (with Ritonavir boosting).
· 55% said Darunavir was the boosted PI they consider most potent against HIV.
The DHHS guidelines do not contain specific standards that would drive HIV specialists toward the treatment decisions and judgments revealed through this national survey. "These are standard practice issues with no clear directions from the guidelines," says Bartlett. "So I found all of these observations interesting."
A total of 331 HIV clinicians participated in this survey, the results of which were released to mark World AIDS Day 2008. Leadership is the theme of Worlds AIDS Day.
Listen to
Dr. Bartlett's full survey report
.
QuantiaMD
is an online clinician community improving the quality and safety of healthcare by clinicians participating in world-class education, interactive cases, field research and patient discussions using breakthrough mobile and web technology.
###