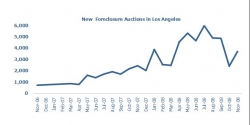 New York, NY, December 09, 2008 --(
PR.com
)-- PropertyShark.com today released its monthly report covering first-time residential foreclosures in Los Angeles, Miami, Seattle and New York City for November 2008. To browse individual
foreclosure listings
go to http://propertyshark.com/mason/Foreclosures/
Summary (Request report for details and charts):
· Los Angeles foreclosures up 51% over November 2007: After a large drop in October 2008, foreclosures in Los Angeles were on the rise again with 3,685 new foreclosures auctions scheduled in November 2008, up 54% from October 2008 and up 51% from November 2007.
"With a 54% jump in Los Angeles foreclosures from October, the California foreclosure law that went into effect in September seems to only have delayed the problem by 30 days. The problem needs reconstructive surgery, not aspirin", stated Bill Staniford, CEO of PropertyShark.com.
· Miami Foreclosures up 6%, Seattle down 22% compared to November 2007: Compared to November 2007, new scheduled foreclosure auctions increased by 6% in Miami and declined by 22% in Seattle.
· New York City foreclosures fall to November 2007 levels: Compared to October 2008, all New York City boroughs except the Bronx (up 8%) recorded a decrease in new scheduled foreclosure auctions, bringing the city to the exact same foreclosure level as November 2007. Manhattan topped the list with a 58% decrease, followed by Brooklyn down 56%, Queens down 18% and Staten Island down 11%.
· New York, Miami and Seattle all down from October 2008: New York City, Seattle, and Miami all showed declines in the number of new foreclosure auctions compared to October 2008. New York City was down 23%, Miami was down 21% and Seattle was down 28%. Los Angeles was up 54%.
"Overall, New York City foreclosures declined nicely for the second month in a row, including the trouble spots in Queens. This may be temporary though given the artificial delays in foreclosure filings due to the September New York State law", stated Bill Staniford, CEO of PropertyShark.com.
Real estate investors can browse current foreclosure listings for the following areas:
Los Angeles Foreclosures
Miami Foreclosures
New Jersey Foreclosures
NYC Foreclosures
Philadelphia Foreclosures
San Francisco Foreclosures
Seattle Foreclosures
Press may request a copy of the report by contacting Brian Scully at 718.408.4985 or visiting PropertyShark BlogCenter www.propertyshark.com/mason/BlogCenter/marketreports.html
With over 25 million properties in twenty major markets, PropertyShark.com provides real estate professionals and investors with data and tools on all aspects of property, including building details, ownership information, recent sales prices, property values and comparable sales, sophisticated maps,
for sale listings
, foreclosures and pre-foreclosures, mailing lists, photos, and more, available directly from the web. PropertyShark.com strives to level the playing field by offering independent real estate firms, investors, and savvy consumers the information transparency essential to evaluate real estate and make informed decisions. For more information go to: www.propertyshark.com
###