Dawna Lee Heising and John Cox of "Eye on Entertainment" Film Show on the Red Carpet at the 2008 Television Academy Hall of Fame Induction Ceremony
Academy of Television Arts & Sciences Inducts Bea Arthur, Dan Burke, Larry Gelbart, Merv Griffin, Tom Murphy and Sherwood Schwartz into Hall of Fame at Beverly Hills Hotel.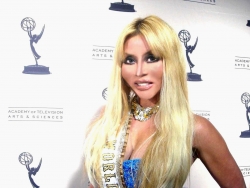 Huntington Beach, CA, December 12, 2008 --(
PR.com
)-- Bea Arthur, Dan Burke, Larry Gelbart, Merv Griffin, Tom Murphy and Sherwood Schwartz were inducted into the Television Academy of Arts and Science's Hall of Fame on December 9, 2008 at the Beverly Hills Hotel. Hall of Fame candidates are submitted from the Television Academy's membership and the industry at large to the Hall of Fame selection committee who votes upon the final decision.
Founded by former Television Academy president John H. Mitchell, the Academy of Television Arts & Sciences Hall of Fame honors individuals who have made extraordinary contributions to television. These pioneers have helped shape the most important and influential medium of our time, whether in front of the camera or behind it, and include directors, producers, costume designers, writers, animators, executives, reporters and explorers. Since the first ceremony in 1984, more than 100 of television's notables have been inducted into the Academy of Television Arts & Sciences Hall of Fame.
The 2008 selection committee included Mark Itkin, who was named Chairman of the committee in 2007, Fred Silverman, Brian Graden, Mike Darnell, Courtney Cox-Arquette and Anne Sweeney. John Shaffner is the current Chairman/CEO of the Television Academy, and James Denton of "Desperate Housewives" was the host for the induction ceremony this year. The 2008 Television Academy Hall of Fame award presenters included Norman Lear, Angela Lansbury, Robert Iger, Mark Itkin and Florence Henderson.
The 2008 Television Academy Hall of Fame honorees included:
· Bea Arthur, who is a two-time Emmy® Award-winning and a Tony Award-winning comedienne, actress and singer, and is best known as "Maude" in the hit television series "Golden Girls",
· Daniel B. Burke, who was president of Capital Cities Communications for 22 years and CEO of Capital Cities/ ABC until his retirement in 1994,
· Larry Gelbart, who is a prolific comedy writer with over sixty years of credits. In 1972, Gelbart was one of the main forces behind the creation of the television series M*A*S*H,
· Merv Griffin, an innovative force in television for nearly half a century, who hosted his syndicated talk show for 23 years and earned 32 Emmy nominations and 17 Emmys Awards,
· Thomas Murphy, who was chairman and former CEO of Capital Cities/ABC, and built Capital Communications into one of the country's leading media companies, and
· Sherwood Schwartz, a writer/producer who has been involved with more than 700 television shows, but is still best remembered for two of the most enduring series, Gilligan's Island (1964-1967) and The Brady Bunch (1969-1974).
The Academy of Television Arts & Sciences was founded in 1946 just one month after network television was born. It is a non-profit organization devoted to the advancement of telecommunications arts and sciences and to fostering creative leadership in the telecommunications industry. In addition to recognizing outstanding programming through its Emmy® Award, the Television Academy publishes Emmy® Magazine and stages many industry-related programs, services and year-round events for the television community.
Eye on Entertainment
"Eye on Entertainment" (EOE) is a high-energy, high-impact television program focusing on extraordinary individuals and the entertainment industry. The show, aired on Time Warner Cable in Los Angeles and Orange Counties, features powerhouse interviews with successful people in all walks of life, exploring the traits that they have in common, and covers entertainment events and awards shows. Dawna Lee Heising is the executive producer and host of EOE. Dawna is Ms. World 2008 and is a long-standing member of the Screen Actors Guild (SAG). EOE's cinematographer is David McNeil, a Mensan with a background including 10 years at United Artists and professional photography. The show is produced and directed by John Cox, a professor in the film and video departments at Orange Coast and Golden West Colleges.
###
Contact
Eye on Entertainment
Dawna Lee Heising
(714) 390-7122
www.EyeonEntertainment.tv

Contact