Boundary Waters Labradors in Ely, Minnesota Has Just Published 2009 Calendars
Several Calendars to Choose from: 'BWCA Labs 2009': Features photography by Margo E. Penke, breeder of the Labrador Retriever. This beautiful calendar showcases original photography of black and yellow BWCA Labs including some of their puppies. '2009 BWCA Labs': Features original photography by artist Margo E. Penke. Showcasing wonderful yellow and black adult BWCA Labs. More 2009 calendars are being published today.
Ely, MN, December 16, 2008 --(
PR.com
)-- BWCA Labs has 2009 Calendars available to Lab Lovers Everywhere.
The new 2009 Calendars are a perfect gift for family, friends or business associates who simply love dogs, puppies, hunting, fishing, wildlife or nature ~
Calendars Published featuring: The fabulous BWCA Labrador Retriever.
Also Calendars featuring just The Beauty of Ely, Minnesota and the surrounding North Country areas.
To purchase online: Go to the website of BWCA Labs; on their home page you will find a link.
BWCA Labs is:
Home of the JOLOR Labrador Retriever, in honor of Mr. Joe DeLoia (Joe & Lorraine), Joe D. & breeder: Margo Penke co-own the AKC Registered Kennel Name of JOLOR, and the Labs have kept us busy. Featured in 3 Recent Magazines: The Retriever Journal: Feb / Mar 2007 Issue, Just Labs: July / August 2007 Issue, The Sporting Classics: Sept / Oct 2008 Issue, Margo E. Penke: is a Lifetime Member of 2 Retriever Clubs: Minnesota Iron Range Retriever Club of Virginia, MN, and the Duluth Retriever Club, Duluth, MN, Boundary Waters Labradors is a Partner of: Working Retriever Central, Margo Penke is a contributor to The Bird Dog Foundation The Joe DeLoia Story, with additional approval on said contibution by Billy Wunderlich's wife, Pert. Margo is a contributor to: Good Dog Info, see: www.gooddoginfo.com.
BWCA Labs has been breeding Labs since 1999. They have 'hundreds of happy homes' most of which are in Minnesota. They also have Pup Placements in Canada, California, Florida, Colorado, Indiana, Missouri, Illinois (Chicago), Wisconsin, No & So Dakota, Michigan, Iowa, Nebraska, with most all of those new owners driving up to Ely, Minnesota to pick up their new Labrador Retriever puppies. In addition to the pups being worth the trip so is the hometown of BWCA Labs. Ely is a tourist town located on the Boundary Waters Canoe Area Wilderness (BWCAW). It is a beautiful place to visit any time of the year.
The website of BWCA Labs features testimonies in their 'Placement Albums' and a 'Featured Pups' album in their 'Photo Gallery'. BWCA Labs has 'thousands of pictures', so it is recommended that patience is exercised during the upload, once there; many visitors just enjoy reading the educational articles and news clippings, especially in the Joe DeLoia album or simply love looking at the beautiful original photography by Margo E. Penke, and others. Fathers & Mothers dog pedigrees are located in the album titled: 'Our Dogs'. The AKC Breeder Guarantees their Pups and has owned several generations herself, included was Joe DeLoia's Last Personal Hunting Dog: Jolor's J J (6/11/91 to 6/19/05). Joe has owned a dog from these bloodlines all the way back to Penney of Wingan, Mother of 1956 NFC AFC Massie's Sassy Boots. Parents of BWCA Lab puppies are OFA'd, Eyes Cleared, and BWCA Labs is a volunteer participant with several of their Labs in the AKC DNA profile program. Boundary Waters Labradors produces Labrador Retrievers with Wonderful Temperament, Good Hunting Instincts and Fire, Fire, Fire.
###
Contact
Boundary Waters Labradors
Margo E. Penke
218-365-5842
www.bwcalabs.com
1405 Hwy 120
Ely, MN 55731
612-759-7171

Contact
Multimedia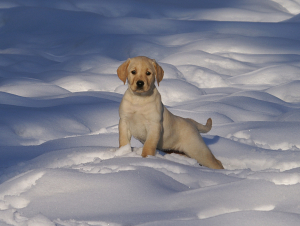 BWCA Labs located in Ely, MN is a breeding kennel of the JOLOR Labrador Retriever. Original Photography by Margo E. Penke