New Surface Protection Products from Pro Tect Help Cut Cost on Busy Construction Sites
Two new value focused products introduced by Pro Tect Associates, Inc., America's Surface Protection Center™. Pro Tect creates market leading choices and value in surface protection strategies for today's lean running construction sites.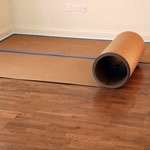 Chicago, IL, February 19, 2009 --(
PR.com
)-- Building Managers and Construction site project managers are trying to find new ways to cut costs on job sites. Pro Tect Associates, Inc. released two new products at the International Builders Show in Las Vegas, Nevada: Pro Tect's Clip & Snap and Rock Board.
Finished Floor Protection Saves Money:
In the battle to cut costs on finished and unfinished surfaces, Pro Tect is proud to introduce Rock Board, the new choice for protecting large and high end construction sites.
"Pro Tect Rock Board gives construction site managers another weapon in the battle to save costs," says Daniel Bowers of Pro Tect. "This is a heavy grade, 50 mil flexible board, that comes in 36 inch by 100 foot rolls. Rock Board is soft enough not to damage your hard surfaces, but strong enough to take a beating from everyday construction site abuse. It cuts costs in two ways; first, it saves the hard surface from having to replaced or repaired. Second, it takes just minutes to layout allowing your workers to focus on the job at hand. It's a thin flexible board that can take the bumps, scraps, scratches of a construction site while protecting the hard surface flooring underneath."
Seal Out Dust and Dirt on Commercial job sites:
Dust and dirt are the bane of every construction site. Keeping dust and dirt out of areas with drop ceilings is doubly difficult because on drop ceilings Dust Poles often can't be used. Pro Tect Clip & Snap Fasteners provide a cost effective solution to keeping construction sites sealed and clean.
"Pro Tect Clip & Snap Fasteners are a great way to cut costs during construction in office buildings and public spaces with drop ceilings. It's easy to snap onto drop ceilings and easy to hang poly down off. Often work is being done in an occupied building, now you can seal off the work area and allow other parts of the building to be used."
"Pro Tect Clip & Snap Fasteners allow you to create a dust barrier before the drop ceiling is even in place. A lot of times building companies or remodeling companies will have to seal off an area from weather or have to enclose an area due to dust that will be created. Pro Tect's Clip and Snap Fasteners allow poly to be hung from almost any pole or pipe."
Surface Protection is often an overlooked area when it comes time to cut costs on your next construction project. Pro Tect Associates, Inc., a family run business since 1993, is America's Surface Protection Center™ and is committed to bringing new surface protection products to market that give construction project managers more choices to save money on their next job.
More information and new, secure online store at:
www.Pro-Tect.com
###
Contact
Pro Tect Associates, Inc.
Daniel Bowers
800-545-0826
www.pro-tect.com

Contact