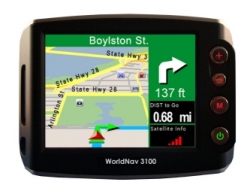 Boston, MA, July 09, 2006 --(
PR.com
)-- TeleType Company has just released a successor to its innovative product line that blends cutting-edge vehicle GPS navigation with MP3 and Video player technology. The all-in-one device, called the WorldNav 3100, is a portable car navigation system that offers door-to-door GPS guidance with simple spoken instructions.
The WorldNav 3100's exciting convergence of portable in-car navigation with the immense popularity of the MP3 player, video player, and picture viewer, makes it possible for travelers to not only reach their destination with greater efficiency, but to easily carry along their favorite music, videos, and pictures. There is no other product on the market that offers the exceptional utility, simplicity and affordability of this new piece of mobile electronics.
The "WorldNav 3100 is stylish, lightweight, and easy to use, and we're excited to offer this device for a very reasonable price," said Marleen Winer, a spokesperson for TeleType."
Based on TeleType's award-winning GPS product line, the WorldNav 3100 is a compact system that weighs only 6 ounces. The device is user-friendly and simple to operate, making it easy for drivers to get from Point A to Point B. To operate the system, drivers touch the screen where a simple menu is presented just like in-dash navigation systems. The driver is then guided along their desired route effortlessly. Drivers can navigate directly to a point of interest (POI) using the extensive POI database included, or a business, home address, or even a desired street intersection.
According to Winer, "the WorldNav product is available for the United States, Puerto Rico, Canada, Mexico, and Europe.
Currently, the U.S. version of the WorldNav 3100 offers the following features and benefits:
Pre-installed, street-level maps for the entire USA, including Puerto Rico
Built-in Li-Ion battery allows you to use the GPS outside of a vehicle
High quality natural sounding voices for turn by turn route guidance
Various settings that allow drivers to create the best possible routes
MP3 Player, Video Player, and Picture Viewer that can be used with your own SD card
Can be mounted to the windshield and easily moved from car to car
Automatic reroute, 3D/2D view, pan and zoom, day/night mode functions
Points of interest including landmarks, gas stations, restaurants, etc.
USB cable for connection to PC for data, music, video, and picture transfer
High-resolution touch screen with large buttons
The WorldNav 3100 is the latest in a long line of products created by TeleType to provide unique and versatile solutions for land, air and water navigation. Notable innovations by the company include: The first aviation navigation product for use on PDAs in flight, the first program to offer combination vector-based marine and car navigation for Pocket PCs, and the first 16-channel Bluetooth GPS receiver with 20 hours of battery life. Pushing the envelope of technology for Pocket PC computing, TeleType created the first program to offer the combination of street, air, water, and land navigation with live weather, topographic and aerial map support on Pocket PC and Windows CE devices.
Established in 1981, TeleType has emerged to become a leader in the field of Global Positioning Systems. TeleType specializes in software system integration and produces innovative products for a variety of industries. GPS software solutions include support of Windows CE and Pocket PC for vehicle navigation, fleet tracking, and geographic information systems data collection. Current hardware solutions include low power, high-sensitivity GPS receivers. The company is also expanding to support additional emerging technologies for GPS solutions based on satellite communications, GPRS, and GSM with support for Pocket PC phones and other mobile devices.
TeleType's WorldNav 3100 is available in two configurations, Deluxe and Premium, and can be purchased conveniently online at www.teletype.com for $399 and $459 respectively. For further information, contact TeleType Company at contact (at) teletype.com , 1-800-717-4478, or 1-617-542-6220.
###