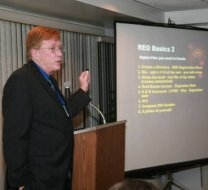 Westlake Village, CA, April 10, 2009 --(
PR.com
)-- The Commercial REO Brokers Association is having a Dinner Meeting on April 28, 2009 at the Fairmont Hotel in Newport Beach. Cocktails will be at 6:00pm; Dinner will be served at 7:00pm. The Meeting will proceed from 8:00pm to 10:30pm.
The Commercial REO Brokers Association, (CREOBA) was formed to assist the Banks and Loan Servicers in selling their Foreclosed Commercial Properties.
Ray McLaine, CREOBA President, pointed out that, "Last year 4.5 Billion Dollars in Commercial Real Estate was foreclosed by Banks. This year, that figure could reach $20 Billion with $200 Billion more to come in the next two years."
The Commercial REO Brokers Association is working with the Banks and Asset Management Companies to create standards of service and best practices between the Bank REO Departments and the Brokers that will be selling their foreclosed properties.
Commercial Brokers that are interested in selling Bank Owned properties are invited to come to the dinner meeting.
The Dinner is open to all Brokers and people in the real estate and lending community such as Title officers, Escrow officers, Real Estate Attorneys, Bankers and Investors. Interested parties may register on the
www.creoba.com
website under the Events tab.
Come and meet their Committee Chairmen for Retail, Office, Multi-Family and Industrial Real Estate and receive an industry update on the imminent Commercial Real Estate Foreclosure market.
The Fairmont Hotel is located at: 4500 MacArthur Blvd., Newport Beach, CA.
###