Best Selling Author, M.J. Acharya, Creates an Ebook for Men
BrokenHeartedGuy.com has been created to support The BreakUp Workbook for Men.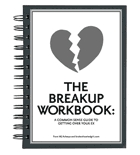 Royal Oak, MI, July 28, 2006 --(
PR.com
)-- The Internet's most successful women's self-help Ebook, The BreakUp Workbook: A Common Sense Guide to Getting over your Ex from BrokenHeartedGirl.com has now expanded. The cult-phenomenon Ebook, recommended by therapists and brokenhearted women alike has been so successful that a new website entitled BrokenHeartedGuy.com has been created to support The BreakUp Workbook for Men.
M.J. Acharya, author of The BreakUp Workbook: A Common Sense Guide to Getting over Your Ex, and The BreakUp Workbook for Men states, "BrokenHeartedGirl.com has evolved from an underground start-up to a huge success practically overnight. Initially I wrote The BreakUp Workbook to compel women to use their own intuitive thinking to understand that a break up never just 'happens.' There are always signs and red flags that are easy to ignore, but need to be addressed – even if it's after the demise of the relationship. The newly publicized theory of, 'just get over it' ignores the fact that there is a process that has to occur before a woman is ready to move on from a broken relationship. The BreakUp Workbook serves as a guide to help a woman get through the process – and it offers women a place to write out their feelings, which is so important to reaching catharsis. The sales numbers have been overwhelming, as has been the press coverage. I was pretty shocked; however, when I discovered that men had been purchasing the women's Workbook to get through their broken relationships. After receiving about 50 emails from men inquiring about my intentions to write a book targeted to their specific needs, I decided to take their advice and use their suggestions to write a book for men, hence The BreakUp Workbook for Men was born."
Both sites, BrokenHeartedGirl.com and BrokenHeartedGuy.com converge into a forum where the brokenhearted can speak with one another regarding their specific issues within the confines of anonymity. The forum is free and is located at http://mjac.forumco.com. MJ Acharya says, "The forum is a great place to vent, because after awhile, it's inevitable that one's friends will get tired of listening to the same story about 'the ex' time and again. The forum provides a place to vent, to seek advice from others in the same situation, and to heal within a community of understanding and caring individuals. I believe that communal healing is a great tool to help one gain strength to deal with the void created by the departure of a former lover."
The forum also provides a place for BreakUp Workbook reviews. Here's one review that stood out to this writer; "This book and the forum combined have helped me tremendously. I recommend it to anyone going through a breakup or unable to fully heal from a past one. I have even recommended that my therapist tell others about it. The support I have received from the forum has given me so much, in the form of advice and in the form of advice that I have given to others."
The BreakUp Workbook for Men is available for immediate download at www.BrokenHeartedGuy.com. For more questions regarding this Ebook, email admin@brokenheartedguy.com.
###
Contact
Brokenheartedgirl.com
Carl Winans
810-333-2861
www.brokenheartedgirl.com

Contact