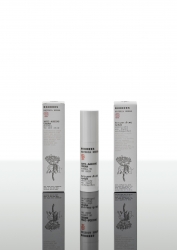 Charlotte, NC, May 13, 2009 --(
PR.com
)-- beautorium is delighted to announce that the new certified organic Materia Herba Skincare line from Korres Natural Products is now available online at beautorium.com. beautorium is proud to be the first retailer outside Sephora chosen to list the new certified organic sustainable skincare line from Korres.
Bob DeBaker, CEO of Korres Natural Products USA said, "Materia Herba is a perfect fit for beautorium.com. The site provides one of the most comprehensive and clear pictures anywhere for the consumer of what natural and organic is all about. Materia Herba is ideally suited to carry that message."
Ann Francke, Founder and President of beautorium.com said, "Korres is a fabulous, visionary brand with an ongoing commitment to making products ever more sustainable. In the past 18 months, the brand has gone from strength to strength with its transparency in labeling initiative, signing the Compact for Safe Cosmetics, Launching Materia Herba and committing to further organic introductions by mid 2010. Such a concrete and full agenda from an iconic and popular line like Korres sets a marvellous example. We are delighted to be working with them."
Materia Herba is based on Korres Heritage as the first homeopathic Greek pharmacy and features highly effective natural actives and oils formulated in collaboration with an advanced Swiss skincare lab. Each of the nine products is 95-100% natural and certified organic by ECOCERT, a leading independent global organization. All are free from parabens, propylene glycol, silicones, sulphates, ethanolamines and synthetic colors, and packaging and production are also certified sustainable.
But the best part of Korres Materia Herba is the top of the line efficacy of the products – part of Korres' commitment to choose skin-and-environment-friendly ingredients that really work. Focus is on advanced moisturizing action, anti-aging and restructuring, and maximum skin compatibility--with the use of ingredients such Edelweiss, Beech Tree Extract and Olive Oil.
Materia Herba At A Glance
Cleansing
• 3 in 1 cleansing emulsion for all skin types
• Toning cleansing foam for all skin types
Moisturising
• Moisturising cream for normal to dry skin
• Moisturising cream for oily to combination skin
• Moisturising eye cream for the reduction of dark circles
Anti-ageing
• Anti-ageing cream for normal to dry skin
• Anti-ageing cream for oily to combination skin
• Anti-ageing eye cream
• Nourishing night cream for all skin types
The line retails from $27 to $46. The full line is now available at beautorium.
About beautorium
An online marketplace for the planet's premier collection of natural and organic beauty care, the beauty of beautorium is its natural simplicity. It takes the guesswork out of going green by hunting for the for the truly natural, truly organic, good-for-your-skin green beauty so all that's left is the gathering. The beauty marketplace at large is saturated with "organic" products and it's hard to know what's real and if it works. Having done the homework, beautorium has hand-picked and carefully screened each and every brand it offers to ensure consumers get the most out of a positively organic experience.
For more information:
Contact gwen@beautorium.com
Call toll free on 866 557 2243
Log onto www.beautorium.com
###