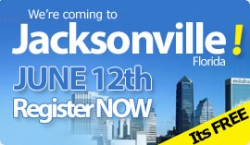 Jacksonville, FL, May 20, 2009 --(
PR.com
)-- New Women's Network to launch in Jacksonville to inspire, empower, and connect women. Connect directly with Kim Fulcher, CEO of MyLifeCompass.com, at a free opportunity event.
Today, Compass is pleased to announce the official launch of mylifecompass.com in Jacksonville, Florida. Compass will host a Free "Discover Your Compass" Opportunity Meeting with Kim Fulcher, CEO of MyLifeCompass.com on June 12, 2009 at 6 pm EST at the Jacksonville Marriott (4670 Salisbury Road, Jacksonville). The Compass mission is to make professional life coaching available and affordable to women all over the world. Come and learn how Compass is changing the world one woman at a time through a ground floor business opportunity. Compass is the first company to offer powerful and affordable coaching programs and services through a network of independent representatives. Guests that attend this free event will also hear from Tara Travis, founder of Godly Women's Business Network, and Candice Smithyman, founder and Vice President of Dream Mentors, International.
Compass combines 4 of the fastest growing global trends: Social Networking, Network Marketing, Personal Wellness/Self Improvement, and Professional Coaching, offering the opportunity of a lifetime. Attendees will learn how they can benefit from coaching, and how they can build their own home-based business with Compass. This is also a wonderful opportunity for trained professional coaches to learn how they can impact more clients. Register at MyLifeCompass.com.
About Compass
Compass is a personal development company committed to improving the lives of women. Founded in 2007, Compass is the parent company for MyLifeCompass.com, a new online community and life coaching resource. Based in San Jose, CA, the privately-held company currently employs 18 professionals, and has assembled a network of dozens of independent professional coaches nationwide. For more information on Compass employment opportunities and membership options, visit www.mylifecompass.com.
Media Contacts:
Compass Media Contact
Rebecca Allen
866.341.8618 x7
Rebecca@mylifecompass.com
###