Jonäno Designer Tees Benefit Cancer Research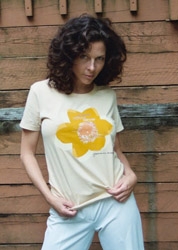 Pittsburgh, PA, August 08, 2006 --(
PR.com
)-- Doing your part for charity has never been more fashionable.
Jonano.com
, a designer organic clothing company, introduces a unique opportunity to add a designer touch to your wardrobe while supporting a really fantastic cause. Their mission: to create "A World without Cancer."
Jonäno debuts the
Daffodil Line
. Inspired by Daffodil Days, Artist Bonnie Siefers has created beautiful daffodil tees. You can honor someone special, brighten the day of someone touched by the disease, and help make the jonäno mission possible—all at the same time!
One of the first flowers to bloom in the spring, the daffodil is a symbol of hope. Each year during Daffodil Days, fresh daffodils are available to purchase worldwide, either in memory of a loved one, to celebrate a cancer survivor or to promote the hope of a cancer-free future.
Cancer is the second leading cause of death in the United States. In 2006, approximately 1.4 million new cancer cases will be diagnosed and about 565,000 cancer deaths will occur in the United States. The overall survival rate for all types of cancer is 65%. Today, there are approximately 10.1 million cancer survivors in the United States.
Now you can show your support for a cure year round!
These limited addition tees are available in a range of colors and organic fabrics. The price is just as nice, with each tee going for just $29.95, $10 of which goes to the cancer charity of your choice from among three top cancer research organizations. Current cancer research organizations channeled for the donations are the Breast Cancer Research Foundation, the Laura Obadiah-Smith Initiative to help fund the Breast Cancer Genome Project at Cold Spring Harbor Laboratory (CSHL), and CureSearch National Childhood Cancer Foundation.
By purchasing one of these luxurious organic tees, not only will you be supporting a fantastic cause, but you will also be looking good and feeling positively uplifted.
Statistics adapted from the American Cancer Society's publication, Cancer Facts & Figures 2006.
written by Bonnie Siefers
Owner/Designer
www.jonano.com
A division of Sami Designs, LLC
ecoKashmere trademark application pending.
Comfort with Benefit trademark application pending.
Headquartered in Pittsburgh, PA, Jonäno™ is one of the few scrub companies on Earth specializing in eco-friendly fabrics and sustainable business practices.
###
Contact
jonano
Bonnie Siefers
724-935-9753
www.jonano.com

Contact