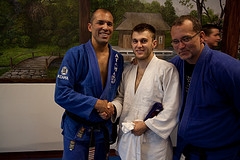 West Hartford, CT, June 11, 2009 --(
PR.com
)-- More details can be found at
www.gracie-jiu-jitsu.com
When asked about Paul Bratslavsky, Jason said "Paul is one of most technical instructors I have ever had the pleasure to train with, I'm lucky to have him as a training partner. He is one of the best children's instructors that I have ever seen."
Congratulations also to new Purple Belt Paul Bratslavsky. "Paul is one of our best coaches. He really knows the art of teaching Gracie Jiu Jitsu and he is really great to train with, as we saw in his exhibition match with Charlie McShane recently at the World Series of MMA 109: The Gauntlet, in Hartford Connecticut" reports Jim Hughes. Many of his Jiu Jitsu and West Hartford CT and East Windsor CT Super Kids Jiu Jitsu and Karate class students were there to see his Sting Grappling demo"I am so happy for him" said his student Abby, about his promotion to Purple Belt.
"The guys did good," said Royce Gracie regarding the seminar. Royce's cousin, Rodrigo Gracie, flew in to Connecticut on a red eye flight after a long teaching tour, which included visits to Australia and Mexico. "Rodrigo Gracie has been a great supporter and mentor for me and I am very grateful for his dedication to helping us here in Connecticut and Massachusetts. He is a great example of the Gracie Family's dedication to helping people learn their amazing system of Self Defense. Rodrigo could have stayed at home resting before his next teaching tour, but instead, he flew all night and invested 4 days of his own personal time to show up here and help out entirely out of the kindness of his heart," says Jim Hughes.
Its not often you see 3 black belts standing in the same room. It is also rare to see 3 brown belts in the same room. Jim Harpe, Agawam MA Gracie Jiu Jitsu coach, Joe Pascucci, West Hartford Gracie Jiu Jitsu coach, and Jeff Reese, Jessup PA Gracie Jiu Jitsu coach were all on hand for the seminar and Promotion. Also in attendance was long time friend and student of the Gracie Family, Mark "Cave Man" Brunetti. Mark and his brother Steve were the original guys in Jessup PA and pioneered the way there by representing the Gracie Family in a very deep and Soulful way. There would be no Gracie Jiu Jitsu in northern PA without the efforts of Mark Brunetti, and, he has been a big influence on me personally. We were honored that he joined us at the seminar for the promotion of Paul Bratslavsky. All around, it was an historic day in a number of respects," says Jim Hughes.
###