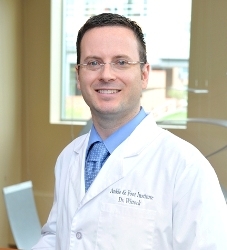 Saint Louis, MO, June 12, 2009 --(
PR.com
)-- Ankle and foot surgeon Richard F. Wittock, DPM, FACFAS, today announced that he has opened a new practice called Ankle and Foot Institute in Fenton.
The new office is located at 1011 Bowles Avenue, Suite 123 in Fenton and online at
www.ankleandfootinstitute.com
. Dr. Wittock accepts most insurance plans. To schedule an appointment with Dr. Wittock at his new location, call (636) 717-1100.
"I want to inform the public of my new location so they are not misled by outdated information on the internet and in the telephone directories," says Dr. Wittock.
Dr. Wittock invites all patients, new and former, to visit his new location. "I think my patients will be very happy with my new office and what St. Clare Health Center has to offer."
###