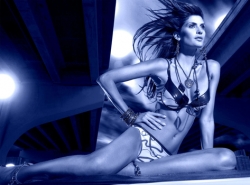 Palm Beach, FL, June 29, 2009 --(
PR.com
)-- As most of South Florida is trying to cool off this summer,
Contributing Artists
is turning up the heat. The boutique agency representing some of South Florida's top photographers and stylists welcomes the electric talent of Dirk Franke, a Miami photographer famous for his stunningly seductive portfolio.
"Adding a photographer of Dirk's caliber, style and experience to the Contributing Artist's board is a milestone for us," said Lisa Bruder, the agency's founder. "Continuing to attract and represent reliable, local talent to connect the right artists, with the right projects, is our mission."
Franke will join the top talent group of photographers, hair stylists, makeup artists, wardrobe stylists, manicurists, and set designers who combine years of creative experience to proficiently design, prepare and carry out any photography, television or editorial production.
In a recent cover feature with Digital Photo Pro, Franke showcased his diverse background, cutting edge style and love for South Florida. The Digital Photo Pro photo shoot also included Contributing Artists talent David Arthur Fittin as wardrobe stylist and Daphney Antoine as hair and make-up artist for the photographs in the article.
"I had never seen a place with such beautiful light, amazing beaches, palm trees on every corner and all kinds of different architecture within just a few miles from each other — available all year-round," said Franke, describing Miami in the Digital Photo Pro feature. "I've worked all over the world and I've yet to see a place that has so much to offer."
Bruder launched Contributing Artists in March 2009 and has successfully built a talent portfolio representing more than 14 artists.
"The addition of Dirk Franke solidifies Contributing Artists' place in the marketplace," said Bruder. "I welcome and am proud to be associated with such incredible and valuable talent."
About Contributing Artists
Contributing Artists represents hair + make-up artists, wardrobe stylists, manicurists, photographers, and more. As an inclusive boutique for event planners, film and TV production companies, and advertising agencies, Contributing Artists takes the hassle out of rounding up quality professionals for South Florida production shoots. All of the company's associated artists have been interviewed, portfolio reviewed, reference checked, and most have a minimum of three years of experience. Contributing Artists handles everything from the artists to lunch and even a clean-up crew if necessary.
Contributing Artists' representatives can be found in local publications such as Boca Raton Magazine, Palm Beach Illustrated, Worth Avenue, and Vive, as well as national publications including Elle, Lucky, Complex, and Uptown Magazines. Its photographers and stylists have worked on campaigns for Macy's, Dillards, Bloomingdales, Mark/AVON Cosmetics, "Top Chef," Sunglass Hut, and countless others. For more information about Contributing Artists visit: http://ca-palmbeach.com or call 561-228-8791
Contributing Artists Location
801 South Olive Ave. Suite 103
West Palm Beach, FL 33401
###