High-Quality Portable Restroom Franchise ElizaJ Flushes Away Economic Worries with Recession-Proof Business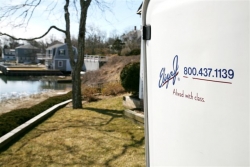 Harwich, MA, July 01, 2009 --(
PR.com
)-- Almost everyone has experienced the dirty, foul-smelling portable restrooms at an outdoor event or the long lines and rushed, cramped inside quarters of the portable trailers which come at a hefty price tag for the event's organizers. Enter
Eliza Kendall
, founder and president of ElizaJ®, the first
franchisor
in the
portable restroom
industry. A seasoned veteran in the special event business, Ms. Kendall realized that there was a specific, continual need for practical, attractive, impeccable, deliverable individual restrooms at outdoor events for a reasonable cost. Everybody has a budget in today's economic environment and ElizaJ® is meeting its clients' price concerns while communicating that extra touch of class and comfort. The franchise services party rental companies, caterers, wedding planners and other high-end event organizers as well as individuals.
"This is not your average portable restroom – it was a concept created by a woman with women in mind although the restrooms can also be appreciated by men as well" explains Eliza Kendall. "Our entire business is focused on quality products and first-rate customer service. All the event companies know that when they call or refer us to serve their valued customers we come through each and every time. Over the years the ElizaJ® name has become synonymous with high quality and dedicated service."
All of ElizaJ's distinctive, deliverable, individual restrooms include fresh flowers, designer soaps and lotions, name brand paper products, wicker waste baskets, air fresheners and most importantly – fresh water. There are three choices of ElizaJ® portable restrooms: the Solar Deluxe, the Multi-Use (wheelchair accessible) and the Ultra Restroom Trailer which contains two separate, spacious restrooms.
"Even in the challenging economy, ElizaJ® is continuing to post impressive numbers," said Ms. Kendall. She continues, "In the Cape Cod, MA territory, we are averaging over 100 events a year since 2000. The figures are consistent because we deliver a high-quality product at reasonable prices which is appreciated by both the $100,000 events and the $5000 events."
With state of the art operations and a successful and clearly defined business strategy, ElizaJ® is currently granting franchises throughout the U.S. Large territories in prime areas are still available.
ElizaJ
International Finest Restroom, Inc., the Franchisor company of ElizaJ®, was established in 1997. The company owned Cape Cod Territory has provided services to many major corporations such as ESPN, GM, Sprint PCS, Smith­Kline Beecham, McKinsey and Co, Cannon, Reebok, and Frito Lay. ElizaJ® provides restrooms for the Democratic Senatorial Campaign and Best Buddies Inc, at the Kennedy compound in Hyannisport. Please visit
www.elizaj.com
for more information.Vanessa.Goldschneider@gmail.com, 914.610.9174mtomzack@franchisehelp.com, 914.347.6735
Media Contacts
Vanessa Goldschneider.,
Mary Tomzack, Franchisehelp,
###
Contact
ElizaJ
Vanessa Goldschneider
9146109174
www.elizaj.com

Contact