The Grimes Companies Recognized for Its Fast and Continued Growth
The Company Ranks Among Jacksonville's 50 Fastest-Growing Private Companies.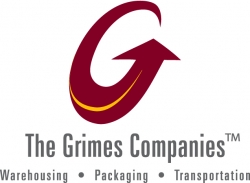 Jacksonville, FL, July 28, 2009 --(
PR.com
)-- The Grimes Companies (TGC) has been recognized by the Jacksonville Business Journal as one of Northeast Florida's "50 Fastest-Growing Private Companies" for the third year in a row. Ranked No. 12 in 2009, the Jacksonville-based supply chain management company is the only company to rank in the top 15 from 2006 through 2008. TGC also ranked No. 9 this year among the fastest-growing companies by dollar-volume.
"The economy has presented us, like all companies, with complex challenges but our focus on providing quality services that help our customers achieve success has allowed us to maintain our own success," said Grimes President Michael O'Leary.
In spite of the economy, TGC is continually adding sophistication and range to its services, which include warehousing, transportation, packaging, document storage and recently expanded global supply chain management including Non-Vessel Operating Common Carrier (NVOCC) and Customs Brokerage Services.
The Business Journal's criteria are stringent and always verified by an independent accounting firm. To make the list a company must have had sales of at least $1 million in the past year and it must have had consecutive annual revenue growth from 2006 to 2008. Rankings were based on a company's average annual growth percentage over a three-year period.
Founded in 1972 by Thomas L. Grimes, the company's growth is carefully controlled by O'Leary and his senior leadership team. They are cautious to be sure the company doesn't grow to the point where it impacts on their ability to manage current operations. "Our commitment to expand will never overshadow our dedication to providing our customers with superior service," said O'Leary.
About The Grimes Companies
TGC, a Jacksonville, Florida based company, currently operates both public and contract warehouses in Florida and Maryland. As a single-point solution for logistics and supply chain needs, TGC provides warehousing, international and domestic transportation and customs services, and packaging services to its clients. FileSafe, Inc., a wholly-owned subsidiary of TGC, offers document storage services to businesses in Northeast Florida.
###
Contact
The Grimes Companies
Candy Barker
800-881-9505
www.grimescompanies.com

Contact