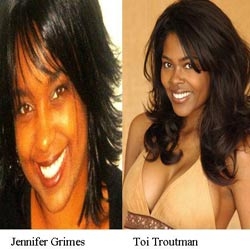 Beverly Hills, CA, September 02, 2006 --(
PR.com
)-- Is your publicist hot enough to get her own agent? After all, this is Hollywood right? In a town where image is everything, while building your image, they didn't neglect their own. GEM Public Relations boasts a hot all-female team and thoroughly gets that concept. The two-woman-run company boasts extreme good looks and diva-like style, along with media connections, industry experience and good old fashioned charm.
The boutique entertainment and lifestyle publicity firm, which is based in Beverly Hills, California, specializes in celebrities in the areas of film, television, music, events, literature and sports. Top clients include, Gary Sturgis (Pride, Daddy's Little Girls, Diary Of A Mad Black Woman), Mari Morrow (Head Of State, One Life To Live, Bet's Oh Drama!), and model, Furonda Brasfield (America's Next Top Model, Veronica Mars)
When these women hit the red carpet with their clients, the flashbulbs start popping. In addition to their marketing expertise, another thing that sets them apart from the plethora of publicists cropping up in the Los Angeles area is that the flash could just as easily be for them. Senior principle, Toi Troutman explains, "We like to show off a bit, but not because it makes the media any more receptive to us when we present our clients in person. That comes from our work ethic. We just happen to take pride in our physicality. I guess Hollywood rubbed off on us a bit." She adds, "...no, of course, we don't discriminate against any qualified applicants regardless of their looks, but we don't see anything wrong with eye candy either. As long as our focus continues to be on our clients, and building their presence and brand, we are doing our job. How we look has no bearing." GEM Public Relations is also one of the few agencies that offer clients several packages and service levels based on the client's current needs and career level. At this writing, service levels range from events-only ala-carte service packages, to full service major campaigns and range in price from $500 to $3,200 per month. The company also offers special rates for projects, non-profit organizations, and event services.
Founder, Toi Troutman, has spent many years in the entertainment industry both in the forefront and behind the scenes, and is well respected. Her background includes music and film projects, and most of her training was on-the-job as publicist/personal assistant for legendary musician and composer, the late Roger Troutman. She holds a degree in communication studies.
Co-executive, Jennifer Grimes, spent many years at high-powered Los Angeles talent agency, CESD (formerly CED). "The bottom line is that we work hard for our clients. Our looks are just icing on the cake. It isn't something we necessarily planned, but we're not fighting it," states Jennifer when asked about her take on their appearance. Jennifer has been involved in the careers of Hollywood's elite for over 15 years.
GEM Public Relations focuses on client branding. This is achieved by event attendance, media outreach and strategic cross marketing. "We are striving to make each and every client a household name," says Troutman. The firm has media placements in many popular urban magazines; most recently, Sister 2 Sister, who will be featuring Gary Sturgis in their January issue, on newsstands in mid December.
Though currently focusing on celebrity talent, the team intends to expand by representing companies, events, foundations and products in early fall. GEM Public Relations is currently accepting select clients.
Toi Troutman is available for interviews.
###