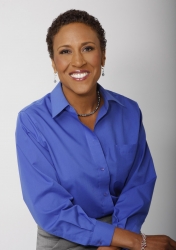 Waterbury, CT, August 07, 2009 --(
PR.com
)-- The 2009 Business Women's Forum (BWF®), Connecticut's largest and longest-running full-day annual conference for women (
www.2009bwf.com
) will be held Tuesday, September 29th at the Connecticut Convention Center in Hartford. "Bouncing Back: New hopes, New dreams, New ways" is the theme of the 27th annual Forum, and 20 year veteran broadcaster, Robin Roberts, with ABC-TV's "Good Morning America" since 1995, and ESPN reporter, interviewer, host and play-by-play commentator from 1990 to 2005, will be the afternoon's keynote speaker.
"More than 1,200 business people from across Connecticut are expected to attend this mega-event," stated Lynn Ward, president and CEO of the Waterbury Regional Chamber, and a BFW® sponsoring member. "We anticipate all participants will greatly benefit from this very exciting showcase of nationally-heralded speakers and trainers who will educate and inspire attendees on both professional and personal levels."
During the past 26 years of success, The Business Women's Forum (BWF®), a program of the Greater Waterbury Chamber of Commerce Foundation, has generated more than $100,000 in scholarship funds for female Post University students to pursue a business education. This year the Forum will honor Carlie Serif who will enter her sophomore year at Post this fall. "The mission of BWF," explained Ward, "is our commitment to equality of opportunity and advancement for women in business." The annual Forum is sponsored by numerous Connecticut-based companies.
Dr. Ellen Durnin from Western CT State University in Danbury, and BWF® member, is Chairwoman of the 2009 Business Women's Forum. "For the past 27 years, this Forum has provided attendees with access to phenomenal speakers, networking opportunities and diverse training. Each year, the Forum has featured such prominent, high-profile keynote speakers as Goldie Hawn, Jamie Lee Curtis, Suze Orman, Jane Seymour, Susan St. James, Chris Madden, Ann Curry, Jack Ford, and Faith Popcorn."
The 2009 BWF® keynote speaker, Robin Roberts, has a personal connection to the events' theme of "Bouncing Back: New Hopes, New Dreams, New Ways." A survivor of breast cancer since 2007, Roberts has been an outspoken advocate for increasing awareness of breast cancer and the importance of early detection, and one of the September 29th Forum morning workshops, "Think Pink," will highlight that important subject.
Additional morning workshops will include: "Social Media Spaghetti: The Bare Minimum You Need to Know to Untangle It All"; "When We're Dealt Lemons, Let's Make Lemonade: Mind Mapping the Next New You"; "10 Biggest Mistakes Presenters Make"; "Fundamentals of Launching and Running a Business in CT"; and "Motivated Follow-up: The Secret Sauce to Your Networking Success". Afternoon workshops will include: "Developing Your Competitive Edge"; "Lead More With Less"; "Grow Your Gusto"; "Managing Stress and Not Letting It Manage You"; "How to Manage Your Boss"; and "The Crab Bucket…The Way We Do Things."
Comedy, inspiration and motivation will start off the 8 a.m. to 5 p.m. 2009 Forum. The morning keynote address will be made by performing artist, communications catalyst, motivational speaker and comedienne Victoria LaBalme. "Crazy, Busy, Nuts: Getting Off the Conveyor Belt of Life" will be the comedic, high-energy program presented by Ms. LaBalme. "It will be packed with hilarious tales and cutting edge commentary on life-changing experiences," elaborated Ward. "Her program promises to offer participants practical, applicable tools for managing the chaos of life, and an inspiration for change." Ms. LaBalme has appeared on HBO's "Sex & The City," Caroline's Comedy Club on Broadway, and 27 television commercials, including one that aired during the 1998 Super Bowl.
At 4:00 p.m., to close 2009 BWF®, a wine & cheese reception will be held featuring networking, exhibits and prizes. Supporters of the 2009 BWF® include Presenting Sponsors: Anthem, Comcast Business Class, The Worx Group, and Wachovia Bank. Premier Partner sponsors are Barker Specialty Company and Webster Bank, and Media Sponsor to date is the "Hartford Business Journal."
Sponsorship opportunities are still being offered for this predicted sell-out 27th Annual Business Women's Forum. To inquire about supportive sponsorships, contact Lynn Ward at the Waterbury Regional Chamber at 203-757-0701, or email her at
lward@waterburychamber.com
.
Tickets for the 2009 Business Women's Forum are $175/person, which includes continental breakfast, lunch and the closing wine and cheese reception. The cost of tickets is the same price as 2008's Forum, and can be obtained by visiting
www.2009bwf.com
. All registrants before September 2, 2009 are eligible to win a Tiffany sterling silver bracelet.
Photo: RobinRoberts.jpg
Contact: Barbara Branagan-Mitchell 860-210-0149
###